So, with
Zack Greinke
gone to Milwaukee, where does that leave the
Royals
?
For one, it leaves them in rough shape in the rotation as the team figures to roll out a
Luke Hochevar
-Kyle Davies-Vin Mazzaro-Sean O'Sullivan set along with presumably Bruce Chen if both sides can come to an agreement on the lefty resigning in town.
That's a rotation that will lose quite a few games, but the value in the Greinke deal is on the offensive side of the ball, plus the future of its pitching. The club is reportedly acquiring Greinke and shortstop
Yuniesky Betancourt
for center fielder
Lorenzo Cain
, shortstop
Alcides Escobar
, pitching prospect Jake Odorizzi and a player to be named later, -- and its not
Jeremy Jeffress
, as the
Milwaukee Journal-Sentinel 's Tom
Haudricourt
adds. The Royals are also sending along $2 million to Milwaukee for Betancourt's 2012 buyout, as the team will almost certainly not pick up the $6 million option as
Haudricourt
reveals. The much-maligned shortstop is due $4 million in 2011 and will step in as Milwaukee's starting shortstop.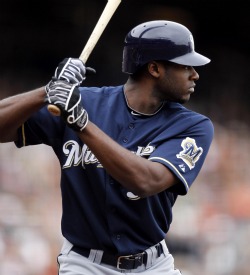 Cain (pictured) should slide into center field and give the team a much-needed young player as the deep minor-league system has no viable alternative. The marks against Cain are that he will be 25 years old with only 43 games experience in the majors and 22 in Triple-A. However, Cain hit .306/.348/.415 for the Brew Crew in 158 plate appearances and overtook
Carlos Gomez
for the starting center-field job. Cain isn't exactly oozing with tools, but according to some in the know, could be a valuable commodity for a long time and one whose age shouldn't be held against him as Cain only started playing baseball as a sophomore in high school -- with zero experience.
Peter Gammons tweeted
that Jim Fregosi told the Royals
"when you trade Greinke, the one player you'd better get is Cain."
Escobar is a talented young shortstop but collasped under the weight of expectations in 2010. Expected to be the starting shortstop for K.C., he hit just .235/.288/.326 in 552 plate appearances and just 10 stolen bases along with disappointing defense for someone who was so heralded in that area. The year before, however, the newly-turned 24-year-old hit .304/.333/.368 in 134 PA. Escobar is a good gamble for a team who has Christian Colon years away from the farm and in a position so thin on quality options. The
Brewers
, for one, feel that Escobar can and will develop into one of the best shortstops in the game.
Odorizzi ranks atop
Baseball America
's Top 10 Brewers prospect list and robs the club of one of the majors' best pitchg prospects. Hey, at least Greinke's a pretty nice consolation prize. The 20-year-old posted a 3.43 ERA in 120 2/3 innings for Class A, punching out 135 and walking just 40. The right-hander's pitching coach in Class A compared Odorizzi to a certain someone when speaking to
Rob Brainerd of FOXSportsWisconsin.com
in July:
"I think he's got four above average pitches," confirmed [Chris] Hook. "Does he need to improve his changeup? Yeah. But I think, and I hate to put a name with him, he's like a Zack Greinke to me. That type of pitcher that can command the strike zone."
As for the player to be named, popular sentiment had Jeremy Jeffress as part of the deal. Both sides continue to haggle over the PBTNL, but the 100-mph throwing Jeffress apparently will stay in Milwaukee and could be a big part of the Brewers's bullpen in 2011. Jeffress has a history of marijuana use that caused two suspensions.
So who could the PBTNL be? Assuming that it's another top prospects, options include third baseman
Mat Gamel
, catcher
Jonathan LuCroy
, outfielder Kentrail Davis, second baseman Scooter Gennett or pitchers Eric Arnett,
Mark Rogers
,
Amaury Rivas
,
Cody Scarpetta
,
Zach Braddock
and Kyle Heckathorn.
The Royals did well here to acquire players that fit with their timeline of contention, as their top prospects are going to be filtering into the majors over the next few years and will be able to play together with a strong core. Suddenly, the 2014 club in K.C. looks like it could be quite the threat.
UPDATE
: Some conflicting reports on the why, but
Baseball Prospects' Kevin Goldstein
and
Haudricourt
both agree that Jeffress seems to indeed be the PTBNL. Goldstein says the hangup is on a non-drug related issue while Haudricourt says K.C. is reviewing Jeffress' drug history.
UPDATE
: Jeffress is now a Royal, as
Haudricourt
says. This makes the deal better from K.C.'s perspective, but it lacks that top-quality, can't-miss prospect that tends to be (should?) part of a deal for a young Cy Young Award-winning pitcher with two years left on the deal.
-- Evan Brunell
For more baseball news, rumors and analysis, follow @cbssportsmlb on Twitter or subscribe to the RSS feed.