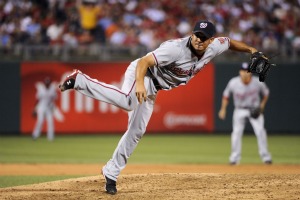 In an offseason where the Rays have had to build up an entire bullpen from the ground up, Tampa has instead been left on the inside looking in as the relief market has exploded.
"It's been," GM Andrew Friedman told the St. Petersburg Times, "a very good offseason to be a reliever."
With all the three-year deals flying around, Friedman has had to adjust his expectations and as a result has brought in small names in former Nats reliever Joel Peralta (pictured), drafting Red Sox left-hander Cesar Cabral in the Rule 5 draft and trading for Adam Russell, Cesar Ramos and Brandon Gomes from the Padres in the Jason Bartlett deal.
So yeah, there's a bullpen -- but not one long on quality or recognizable names.
"It's not something we anticipated," Friedman said. "Especially in an offseason when we needed to remake our bullpen, it's not necessarily ideal. But you have to react accordingly and do what you can."
The club also expects J.P. Howell to return from Tommy John surgery at some point, although not likely by Opening Day. Howell likely would have been set up to close if the timetable afforded enough time in spring training. As is, Peralta is set to be the closer. That's rather odd for someone non-tendered by the Nationals, although the non-tender decision was curious given the 34-year-old posted a 2.02 ERA in 49 innings, whiffing 49 and walking a scant nine.
Other possibilities for the pen include converting a starter into a reliever such as Jeff Niemann or promoting prospect Jake McGee and Jeremy Hellickson and pitching them out of the bullpen.
Tampa also has minor-league invites to camp for R.J. Swindle and Cory Wade and figure to extend a few more minor-league deals to willing pitchers.
-- Evan Brunell
For more baseball news, rumors and analysis, follow @cbssportsmlb on Twitter or subscribe to the RSS feed.