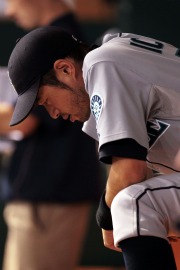 It's like clockwork. During the regular season, Ichiro usually gives pretty flavorless interviews. Then over the winter, these tremedous, frank, thoughtful quotes show up in the Japanese newspapers. Whether something is lost in translation with the U.S. press or he's just more comfortable speaking when he's not in his intense game-day focus mode, it's always interesting to read after the fact what he was thinking.
Today a Q&A was published in English-language Japanese online outlet
Japan Today.
The answers given by the
Mariners
' 10-time All-Star outfielder don't paint a picture of a guy who's happy with the way things are going in Seattle.
Ichiro said he was struck by a core of Mariners from their first few playoff appearances (Randy Johnson, Edgar Martines, Jay Buhner, Ken Griffey Jr.) appearing together when Johnson threw out the first pitch of the season.
"It was good to see them all together but at the same time made me wonder if there is a real teammate for me. I hoped that Felix [Hernandez] or [Chone] Figgins would become one and that 2010 would be the start of a new Mariners era. But we stumbled from the outset."
Ichiro has been to the playoffs just once in 10 seasons, in his rookie campaign in 2001, and has endured two 100-loss seasons in the past three years.
"After all this time I wonder why we still lose this many games. ... The whole team had high hopes for the 2010 season because we thought we made good additions to the roster (such as
Cliff Lee
and Figgins). And we ended up like this. From now on, maybe we shouldn't even voice our goals."
-- David Andriesen
For more baseball news, rumors and analysis, follow @cbssportsmlb on Twitter or subscribe to the RSS feed.