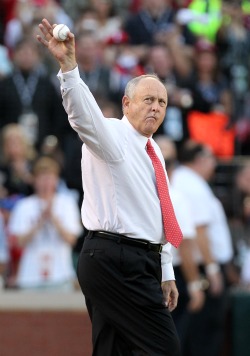 Team president Nolan Ryan appeared on Sportsradio 1310 The Ticket Monday, with the Dallas Morning News transcribing the content. Ryan spoke about ever-rising salaries and what it means to the Rangers.
"Obviously, the premier free agents…they're just so few of them, they just keep going up and so what you have is a high-ish amount of people getting an unbelievable amount of money and it impacts everything else," Ryan said. "So we're overpaying some free agents that probably shouldn't be getting paid what they are."
The Rangers have been quiet this offseason despite the chase for Cliff Lee, signing catchers Yorvit Torrealba and Matt Treanor, the latter coming back to the team for $850,000. Torrealba inked a two-year, $6.25 million deal. Texas also acquired Mason Tobin in the Rule 5 draft via the Cubs. That's been it -- and that may have something to do with Ryan's preferences.
"My comfort level on free agency is three to four years and they think nothing of agents, nowadays, asking for seven. So, I don't know, I don't know how you justify something like that."
Clearly, the team justified offering more than four years to Lee, with six- and seven-year deals on the table for the left-hander. However, Lee was a special case: one of a handful of "true" aces in the game and who expressed a willingness to return to Texas. On a regular basis, free-agent deals lasting longer than four years rarely work out.
With free-agent pitcher Carl Pavano demanding at least three years and Texas not keen on meeting that asking price, the club reportedly agreed to terms with Brandon Webb, with only a physical standing in the way.
"It's a little premature for me to make that prediction or not," Ryan said of inking Webb, "But we've been in talks and had discussions with his agent and if you were to ask me today where we stand, I'd say we're probably getting really close."
It's not just Webb left on the shopping list for Texas. The team needs a DH, and talks with incumbent Vladimir Guerrero haven't been fruitful. The Rangers appear to be exploring all other possibilities -- including a platoon at the spot.
"There's several DHs that I think would be nice additions if you had the ability to sign a DH and then sign another one that might be good from the other side of the plate. He could give you some at-bats and maybe be a pinch hitter so yea, I'd say there are a few players out there that could still help the ball club but whether that's doable or not, I don't know."
One such player that could help is third baseman Adrian Beltre, who has found the market as chilly as last year. Only this time, he's coming off the pillow contract that worked wonders in Boston, but still no interest. That could open the door for Texas, although the team would be confronted with a tough situation in moving Michael Young to another position.
"When you have a player of [Beltre's] caliber out there, you have to have an interest if it's realistic within what your budget is and how he would fit into your ball club and how you would hit him in the lineup and stuff of that nature," Ryan noted. "So, obviously with our ball club, it wouldn't be nearly as clear-cut as somebody else, say whether it be the Angels and the rumor is that Oakland has made him [an] offer. I would say if you looked at the free agent market right now, he's probably the premier free agent that's still unsigned."
While you can't close the door on Beltre to Texas, it does appear that the team isn't seeking an outfielder. With Josh Hamilton's myriad injuries, he's best used as a left fielder and Texas wants to make that happen with internal candidates. Julio Borbon has been trying to crack the starting lineup permanently and may come through in 2011. Texas also has rising prospect Engel Beltre, acquired from Boston in the Eric Gagne trade.
-- Evan Brunell
For more baseball news, rumors and analysis, follow @cbssportsmlb on Twitter or subscribe to the RSS feed.