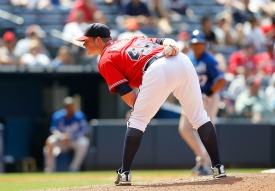 The
Braves
will be looking internally for a closer to replace the retired
Billy Wagner
and 22-year old
Craig Kimbrel
tells the Atlanta Journal-Constitution
he's ready to compete for the gig.
"There was never really a point last year where I didn't think I could do it," Kimbrel told the
AJC
's Carroll Rogers. "I can't go on the mound and think 'I can't do it,' because then I'll be in a losing situation."
Kimbrel allowed just one earned run in 20 2/3 innings last season, striking out 40 batters and walking 16. He appeared in four postseason games, and allowed one hit and one earned run in 4 1/3 innings, while striking out seven. He pitches in the high-90s and has a nasty slider.
Braves manager Bobby Cox called him out to close Game 3 -- I was sitting in a press box dining room with a Braves scout who said he thought Kimbrel was the guy to close for the Braves in the future -- but the veteran manager didn't quite show that confidence in the rookie, who ultimately was charged with the loss.
WIth a 2-1 lead in the ninth, Kimbrel got
Cody Ross
to pop up to second baseman
Brooks Conrad
before pinch-hitter
Travis Ishikawa
worked a walk. Kimbrel then struck out
Andres Torres
before
Freddy Sanchez
's grounder up the middle. WIth two on, Cox took out Kimbrel, bringing in lefty Michael Dunn to face
Aubrey Huff
, who singled in a run.
Peter Moylan
then came in to replace Dunn and
Buster Posey
hit it between the legs of Conrad, scoring Sanchez, for the second run charged to Kimbrel in the inning (unearned) and gave the
Giants
the lead.
Kimbrel says he's ready to compete in spring training and will be happy no matter his role -- just so he's in the big leagues.
"I'm looking at it like it doesn't matter what role I have, if I'm in the big leagues, I'm happy," Kimbrel said. "But if I just go out there and focus more on pitching well, good things will happen."
Left-hander
Jonny Venters
could also close. Venters was 4-4 with a save and a 1.95 ERA in 83 innings. He struck out 93 and walked 39, finishing eighth in Rookie of the Year voting. Like Kimbrel, he pitched in all four of the team's NLDS games, allowing seven hits but no runs in 5 1/3 innings, striking out five and walking none.
The Braves signed
Scott Linebrink
, who has seven saves in his 11 seasons in the big leagues, but has been a set-up man in the past and isn't coming off his best season in 2010, where he was 3-2 with a 4.40 ERA for the
White Sox
. Veteran lefty
George Sherrill
had 52 saves in 2008 and 2009, mostly as the closer for the
Orioles
, but is also coming off a bad year, with a 6.69 ERA in 36 1/3 innings for the
Dodgers
. He posted his worst strikeout-to-walk ratio (1.04) of his career, walking 24 batters and striking out 25.
There is, of course, still Rafael Soriano out there. The Braves' 2009 closer is coming off a season with 45 saves for the Tampa Bay
Rays
, but is likely out of Atlanta's budget. A cheaper free-agent option could be former
Blue Jays
closer Kevin Gregg.
-- C. Trent Rosecrans

For more baseball news, rumors and analysis, follow @cbssportsmlb on Twitter or subscribe to the RSS feed.