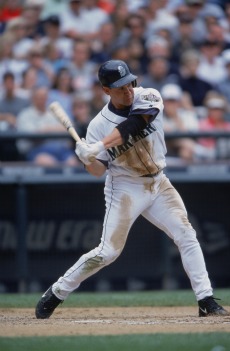 In spring of 2002, I wrote a newspaper column about
Mariners
second baseman Bret Boone, and how despite his prodigious 2001 season those of us in the Seattle press corps didn't ask him about steroids. The point was that his having an improved physique and a power surge didn't give us the right to walk up the guy and say, "so, you taking steroids?"
In his first book,
Juiced,
Jose Canseco mocked me for that column. He missed the point of the thing, which was that journalistic standards don't give us the right to accuse someone of cheating absent other evidence, but he was right on one point: I was still somewhat naïve on the extent of the use of steroids in the majors. Frankly, all of us were in 2002.
Canseco followed with this: "The amazing thing was how obvious it was [that Boone was juicing]: All they had to do was open their eyes and take a look at this little guy, with his small frame and his huge arms – arms that were bigger than mine!"
Was Boone using illegal performance enhancers? I still don't know for sure. Yes, if "just look at the guy!" is the yardstick you want to use, he's certainly suspect.
But is "just look at the guy!" a legitimate argument to use when voting for the Hall of Fame? With Hall votes due tomorrow, we're facing our biggest test so far with Jeff Bagwell.
Bagwell, statistically, is absolutely Hall of Fame material. But he's unlikely to get in this year, primarily because people have misgivings about whether he used PEDs. Those misgivings, however, aren't based on anything but conjecture. Bagwell never tested positive for anything, his name isn't in the Mitchell report, nobody ever reported seeing him use anything or accused him of it.
Here
is a thorough compendium of everyone ever connected to steroids in baseball, and Bagwell's name isn't on it. It's strictly a "just look at the guy!" argument.
Jeff Pearlman, author and former
Sports Illustrated
writer,
thinks it's OK
to keep someone out of the Hall without evidence. He argues that since everyone around him was doing steroids, Bagwell probably was, too. And Pearlman says even if Bagwell was clean, he gets a black mark for not speaking out against it.
"Did Jeff Bagwell use PED?
I don't know.
Do I have the right to hold his era against him?
Damn right I do."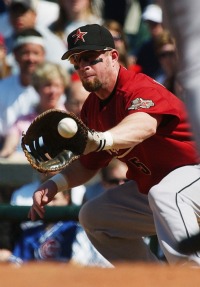 But in that case, do we throw out the entire era? If we assume everyone who put up big numbers is dirty, and we disqualify clean players for not speaking out (can you think of a lot of players who did?), who makes the cut? I guess nobody. We're going to have a boring couple of decades in Cooperstown.
It's a slippery slope when you start voting with gut feelings. Ken Griffey Jr. will get into the Hall of Fame on the first ballot, and is always held up as an example of someone who played clean, but we don't know what he did any more than we know what Bagwell did. On the official record, there is no difference between them – so how come Bagwell gets penalized?
I much prefer the philosophy of SI.com's Joe Posnanski, who says in this
outstanding piece
that keeping Bagwell out is a travesty.
The Hall of Fame character clause gives voters carte blanche to judge the eyes and hearts and souls of players. ... I'd rather a hundred steroid users were mistakenly voted into the Hall of Fame over keeping one non-user out. I don't know if Jeff Bagwell used or didn't use steroids. But there was no testing. There is no convincing evidence that he used (or, as far as I know, even unconvincing evidence). So what separates him from EVERY OTHER PLAYER on the ballot? Were his numbers too good? That's why you suspect him?
I understand that in the coming years the Hall of Fame and its voters are going to have to work out the steroid era and where to place tainted players in baseball's historical record. I get that we're going to have these conversations about Mark McGwire and Barry Bonds. But why are we having it about Jeff Bagwell? In our efforts to hold Hall of Famers to a high standard, why are we lowering voting standards to the point where "just look at the guy!" is a legitimate argument?
-- David Andriesen

For more baseball news, rumors and analysis, follow @cbssportsmlb on Twitter or subscribe to the RSS feed.