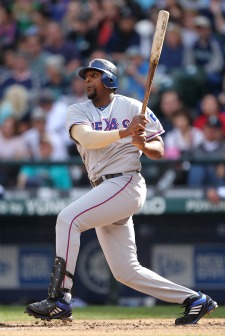 If there's a surplus of one position on the free agent market, it may be the designated hitter spot.
Jim Thome, one of last season's bargain pickups, is still unsigned, as are
Vladimir Guerrero
, Manny Ramirez and Johnny Damon. And then there's the not-retired Jermaine Dye, Jason Giambi, Russell Branyan, Jose Guillen and Hank Blalock.
So far this offseason, the
Red Sox
exercised their option on
David Ortiz
, the
Yankees
have said they'll move
Jorge Posada
out from behind the plate, as will the
Tigers
with newly-signed
Victor Martinez
.
Adam Dunn
will be a first-time designated hitter with the
White Sox
.
As for teams with needs, that includes the team Thome DH'd for last season, the
Twins
, who would like him back. Of course, after putting up the year he did, he feels like he deserves a raise -- especially with his 600th career home run likely coming this season. The
Rays
,
Angels
and
Rangers
also have obvious needs, while the
Orioles
,
Royals
and
Blue Jays
could upgrade at the spot or stay put.
As it stands, here how the current AL DHs line up:
Orioles --
Luke Scott
Red Sox -- David Ortiz
Yankees -- Jorge Posada
Blue Jays --
Edwin Encarnacion
Rays --
Matt Joyce
White Sox -- Adam Dunn
Indians
--
Travis Hafner
Tigers -- Victor Martinez
Royals --
Billy Butler
Twins --
Jason Kubel
Angels --
Mike Napoli
A's --
Hideki Matsui
Mariners
--
Jack Cust
Rangers --
David Murphy
And here's who is left on the market (2010 AVG/OBP/SLG HR, RBI)
Jim Thome .283/.412/.627 25, 59
Vladimir Guerrero .300/.345/.496 29, 115
Manny Ramirez .298/.409/.510 16, 42
Johnny Damon .271/.355/.401 8, 51
Russell Branyan .237/.323/.487 25, 57
Jason Giambi .244/.378/.398 6, 35
Andruw Jones .230/.341/.486 19, 48
Hank Blalock .254/.319/.349 1, 7
Jose Guillen .258/.314/.416 16, 62
Jeremy Hermida
.216/.268/351 6, 29
Troy Glaus .240/.344/.400 16, 71
Mike Sweeney .252/.321/.444 8, 26
Jorge Cantu .256/.304/.392 11, 56
Jermaine Dye (2009) .250/.340/.453 27, 81
-- C. Trent Rosecrans

For more baseball news, rumors and analysis, follow @cbssportsmlb on Twitter or subscribe to the RSS feed.