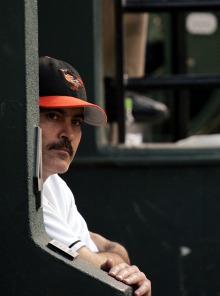 Hall of Fame election results will be announced Wednesday, and Rafael Palmeiro won't get in. His career numbers are worthy of being in the discussion -- he's one of four players with 3,000 hits and 500 homers -- but a positive test for steroids in 2005 casts a shadow Palmeiro might never escape.
On the eve of the announcement, Palmeiro was a guest on the Norris and Davis Show on Baltimore radio station 105.6 The Fan. He talked at length about his career, steroids and the Hall of Fame. You can hear the entire interview at
1057thefan.com
, but here are some of the more interesting segments.
On his Hall candidacy, he says it's out of his hands, but he thinks he has the numbers: "They can't take away the things that I brought to the game, and they can't take away my career. That's always going to be with me, good, bad and ugly."
So how did those steroids get in his system? A tainted B-12 supplement given to him by a teammate: "Being a 19-year veteran, I should have known better than to take anything from anybody."
Palmeiro said he feels vindicated by the fact that, after investigating him, the House Government Reform Committee did not seek perjury charges against him: "They went out and they reached out to these people, and they couldn't come up with anything."
Life after baseball is "OK," but he feels like he'll never escape the controversy: "I don't know that I'll ever get over the steroids stuff. That's something that will stay with me forever, no matter what happens."
-- David Andriesen

For more baseball news, rumors and analysis, follow @cbssportsmlb on Twitter or subscribe to the RSS feed.