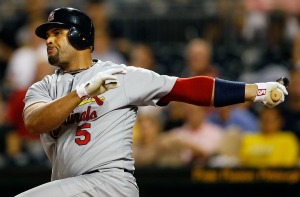 The
Cardinals
and the agent for
Albert Pujols
have begun serious discussions this week on what promises to be a groundbreaking contract for the three-time MVP.
Sources tell the
St. Louis Post-Dispatch
that negotiations have taken a "positive" tone, though Pujols' agent, Dan Lozano, and general manager Jon Mozeliak have pledged negotiations will be conducted privately. Pujols is in the final year of an eight-year deal, and has said he won't talk contract after spring training opens -- either the Cards wrap him up with an extension in the next few weeks, or he becomes a free agent at the end of the season. That's not to say St. Louis couldn't still sign him after the season, but you know the Cardinals would rather not have him testing the market.
This should be interesting to watch, because perhaps no player in history has been better positioned to ask for a huge payday than Pujols. Basically it's 2000
Alex Rodriguez
(best player in the game looking for a career contract)
multiplied
by 2010
Derek Jeter
(face of a franchise that can't even think about losing him).
Looking at recent contracts, how much is Pujols theoretically worth? We're talking about a player who has finished in the top two for MVP in seven of his 10 seasons, and is about to turn 31. Is he the first $30 million a year guy? Given that St. Louis is a relatively small market whose payroll last season was $94 million, can they even think about paying someone $30 million, no matter how much he means to the franchise? Is Pujols willing to take less than he might get elsewhere in order to be a career Cardinal? Like I said, this could get interesting.
-- David Andriesen

For more baseball news, rumors and analysis, follow @cbssportsmlb on Twitter or subscribe to the RSS feed.