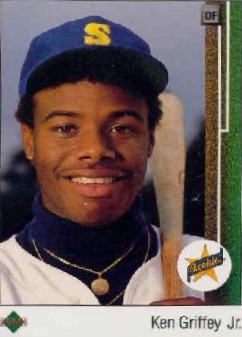 A Ken Griffey, Jr. rookie baseball card has helped nab two men accused of two burglaries in New York City, WNYT reports.
On Nov. 4, Gregory Amyot and Robert Spraker were arrested for being in possession of a stolen credit card. Police then found a 1989 Upper Deck baseball card depicting Ken Griffey, Jr. in his rookie season.
That card immediately linked Amyot and Spraker to a robbery of 498 Madison Ave. on either Nov. 3 or 4, in which two IBM Think Pads along with multiple sports playing cards having been stolen. Police also connected the two to a robbery of an architecture firm on Halloween.
The Griffey, Jr. card is perhaps the most well-known in modern day and most sought-after, with only the T206 Honus Wagner card attracting more renown as this 2008 Slate article reveals.
-- Evan Brunell
For more baseball news, rumors and analysis, follow @cbssportsmlb on Twitter or subscribe to the RSS feed.