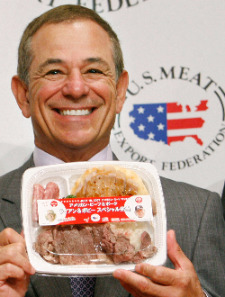 Bobby Valentine has a new job.
Managing a baseball team? Nope.
Baseball analyst? Nope.
Shilling for Japanese meat products (pictured)? Nope.
If you guessed "city director of public health and safety," you're right (and frankly a little strange).
Valentine was named to that job Thursday by the mayor of his town, Stamford, Connecticut,
as reported
by the
Stamford Advocate.
The job used to pay more than $100,000 before funding was cut, and Valentine will get $10,000 a year, which he says he'll donate to community causes.
Mayor Michael Pavia cited Valentine's leadership skills as well as his work on a task force to reorganize the city's fire department (during that effort, his famous
temper flared
a bit).
"I'm going to give this my best effort," Valentine said during a news conference. "The thought of trying to do good in a very public way is a very exciting challenge in my life. ..."I'm going to be learning on a daily basis, all of the things that my job will entail. [The departments] run, as I said, extremely well in the city and the mayor, I think, that I'm going to try to help coordinate the flow of information both ways, from him to them, and from the different services to the mayors office."
There is the issue that Valentine already has a job as an analyst with ESPN, a job that is expanding with his new role in the booth for
Sunday Night Baseball.
But he said his network job is mostly at night and on weekends, and during the day he will work for Stamford.
"I get up early, I go to bed late," he said. "There's plenty of hours in the day that I get to do the things that I need to do."
-- David Andriesen
For more baseball news, rumors and analysis, follow @cbssportsmlb on Twitter or subscribe to the RSS feed.