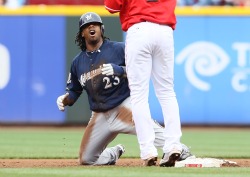 The
Brewers
have gone all-in this season, trading what was left of their farm system to Kansas City to get
Zack Greinke
. Part of the reason the Brewers are going for it in 2011 is that the team knows it's the last year
Prince Fielder
is likely to be in Milwaukee. It could also be the last season of second baseman
Rickie Weeks
.
Weeks has filed for arbitration and is asking for $7.2 million, while the Brewers offered $4.85 million. The two sides had been seeking a multiyear deal, but are now focusing on just a one-year contract.
Brewers assistant general manager Gord Ash
told MLB.com's Adam McCalvy
that the two sides agreed to table the talks for a multi-year deal "to focus on a one-year deal but keep the options open in terms of revisiting a one-year deal," Ash said.
Weeks made $2.75 million in 2010 and produced for Milwaukee -- hitting .269/.366/.464 with 29 home runs, 83 RBI and 11 stolen bases, playing in 160 games. He led the National League in plate appearances in the year after he managed to play 37 games. Before 2010, he'd never played in 130 games in one season. The oddity of the arbitration process -- and the proof that it's very much in the favor of the players -- is that Weeks received a raise after his 2009 season when he had just 162 plate appearances.
Ash said the Brewers and Weeks' agent, Greg Genske, differed on both years and dollars for the 28-year old.
"There's a lot of negotiating that has to go on," Ash said. "He's looking at the player RIckie was this year and [assuming] he will be that going forward. Clearly, Rickie is a player we really value in terms of his dedication and his professionalism and his approach to the game, but we've had some uneven history here in terms of performance. … if there's a belief on Genske's side that Rickie Weeks is similar to
Dan Uggla
, then we're going to have a problem."
Weeks had an Uggla-like 2010, but will need another one in 2011 to even sniff Uggla-like money.
-- C. Trent Rosecrans
For more baseball news, rumors and analysis, follow @cbssportsmlb on Twitter or subscribe to the RSS feed.