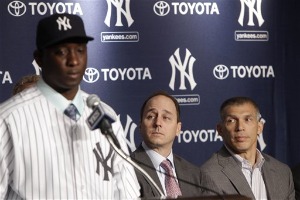 The signing of
Rafael Soriano
didn't seem like a Brian Cashman move -- especially after he'd said publicly he wasn't going to do it -- and now it's official. At Wednesday's press conference, Cashman admitted it was Hal Steinbrenner's call to sign the
Rays
closer.
"I didn't recommend it just because I just didn't think it was an efficient way to allocate the remaining resources we had," Cashman said (
via the New York Times )
. "We had a lot of debate about it. Like everything on the free-agent market and trade market, you discuss it, make your recommendations to ownership, and they choose what direction they prefer to go given the circumstances. My preferece was waiting. They obviously acted, and we are better."
Steibrenner, apparently, was the one willing to shell out a the three-year, $35 million contract to Soriano, who will serve as a set-up man to
Mariano Rivera
. Cashman said he didn't feel Steinbrenner's veto was a challenge to his power.
"I think it's certainly a sign at times if Hal wants to go different directions that could happen," Cashman said. "I think that's certainly the case. This is their team. Does that happen often? Will it happen a lot? I just think it depends on the circumstances what the comfort level is taking place at the time. Not to say it won't happen again, not to say it will. It's hard to say."
The biggest issue was the fact Soriano is a Type A free agent, meaning the
Yankees
must give up their first-round pick to the Rays as compensation. The 2011 draft is seen as one of the deepest in years. Cashman said he didn't want to give up that pick for a set-up man. He was willing to give it up for
Cliff Lee
.
"I think 29 clubs would love to have Rafael Soriano thrown down their throats," Cashman said (via
ESPNNewYork.com
).
Team president Randy Levine told ESPNNewYork.com that there is no rift in the organization and the team is happy with Cashman, there was just a difference of opinion and in the end, the ones who sign the check have the last word.
"Cash is the best general manager in the game," Levine said.
-- C. Trent Rosecrans
For more baseball news, rumors and analysis, follow @cbssportsmlb on Twitter or subscribe to the RSS feed.