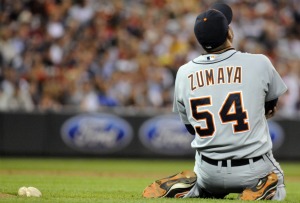 If you saw
Joel Zumaya
crumpled on the mound last June, you've got to be rooting for the guy now. Zumaya, the
Tigers
' flame-throwing right-hander, fractured his elbow on a pitch to Minnesota's
Delmon Young
, falling to his knees just after the high-90s fastball reached Tigers catcher
Gerald Laird
.
It was the latest in a string of odd injuries for the 26-year old reliever, and yet again he says he's ready to return to the mound.
"I think I'm gonna be on that team on opening day," Zumaya
told the Detroit News ' Lynn Henning
. "No… I know I will be on that team. There's no doubt about it."
Forgive anyone who doubts Zumaya, citing his long injury history.
"I've proclaimed myself 'China Doll' because I've been hurt so often," Zumaya said. "I want that healthy year too. Last year, it was heading that way."
He pitched in 31 games for the Tigers last season, the most he's appeared in since his rookie year in 2006 when he pitched in 62 games for the Tigers, who reached the World Series with help from Zumaya.
Last season he struck out 34 in 38 1/3 innings, walking 11, going 2-1 with a 2.58 -- also his best mark since his rookie season.
The Tigers gave Zumaya a $1.4 million deal to avoid arbitration last week, so they apparently have some faith in him and his recovery. So far, he's on track for the six-month rehab from his elbow surgery.
"You can see that look in his eye," Tigers general manager Dave Dombrowski said. "He looks tremendous, and all the reports on him are very good. We know what he can do for our bullpen."
-- C. Trent Rosecrans
For more baseball news, rumors and analysis, follow @cbssportsmlb on Twitter or subscribe to the RSS feed.