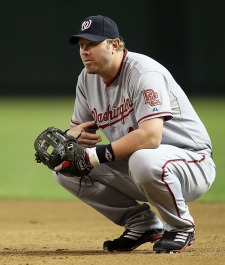 Adam Dunn
is bringing his glove to Chicago.
"I don't want to say [Dunn will play] twice a week, three times a week,"
White Sox
manager Ozzie Guillen
told the Chicago Tribune 's Mark Gonzales
. "It depends on who is pitching, lefty or righty. But he will be at first base more than people think."
Dunn will play first base to provide
Paul Konerko
a breather during the season.
"Believe me, P.K. was done late in the season," Guillen said. "He was done. I want to make sure I take care of that."
Konerko hit .312/.393/.584 last season with 39 homers. In September and October, he hit .271/.354/.588 with seven homers.
Konerko has generally been considered a fair defensive first baseman, while Dunn has a reputation as one of the worst fielders in baseball. However by both UZR and runs saved, Dunn was better than Konerko in 2010. Konerko had a -14.7 UZR/150 and a -17 runs saved in 2010, while Dunn had a -3.3 UZR/150 and -8 runs saved. Over the last three years, Dunn was the worst first baseman in baseball with -29 runs save, but Konerko was fourth-worst at -22. Neither's going to win a Gold Glove, but it probably won't be as dramatic a drop-off as many would think when Dunn does take the field.
Last season, Dunn said he didn't want to become a full-time designated hitter, and the White Sox saying he could play first often to spell Konerko could have had a hand in him selecting Chicago and heading to the American League.
-- C. Trent Rosecrans
For more baseball news, rumors and analysis, follow @cbssportsmlb on Twitter or subscribe to the RSS feed.