That would be the Jays, not the Rays.
An earlier report had the Rays trying to acquire Angels catcher Mike Napoli, but Toronto has come away with the slugger, reports FOX Sports' Ken Rosenthal .
While the Angels need a power bat, the club has never been high on Napoli and he only earned playing time in 2010 once Kendry Morales went down for the season with an injury. That opened up first base for Napoli, and he banged 26 home runs thanks to the opportunity. It was the third straight year Napoli has hit over 20 home runs, as he has forced his way into playing time before.
He'll have no trouble gaining playing time in Toronto, where he will likely steal some at-bats at catcher from J.P. Arencibia -- if not cause Arencibia to be demoted to the minors entirely. He should also play some first base and DH in a time-share with Adam Lind, Edwin Encarnacion and Travis Snider.
If the club moves Jose Bautista to third base -- a decision likely to take place in spring training, although the alternative is the unimpressive John McDonald -- then Snider could play left, Napoli first and Lind DH, with Encarnacion coming off the bench. That would appear to be the best option offensively. Questions do remain about Arencibia's defense behind the dish and Bautista's preference to play right instead of moving back to the hot corner, however, and the Blue Jays are expected to try to get Rajai Davis into the starting lineup.
On the Angels' side, this move could open up a return of Vladimir Guerrero or Manny Ramirez -- or even Scott Podsednik -- to town now that Napoli's contract is off the books. He still has yet to settle in arbitration, but the team's offer was $5.3 million, so he cannot earn any less than that. Napoli is asking for $6.1 million.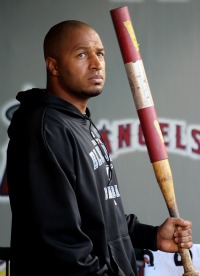 UPDATE : Rosenthal adds that the player going back to the Angels is Vernon Wells.
To say this is a surprise would be an understatement. Toronto must be kicking in serious cash to replace Wells, as the center fielder is owed $86 million over the next four years. This is for a player who hit .272/.331/.515 in 2010... his best year since 2006. Oh, and did we mention the defense?
It's too early to judge this trade as this deal clearly has to be bigger than Wells for Napoli.
For one, what does this mean for Torii Hunter and Peter Bourjos in Los Angeles? Abreu could be ticketed for DH, but Bourjos could also lose a starting spot with Wells or Hunter playing right. If it's Abreu headed to DH, one would think that Bourjos would stay in center with Wells shifting to left field.
Toronto, meanwhile, could shift Rajai Davis to center field, which would allow them to keep Bautista in right and still fit in the players they plan to start.
UPDATE : Rosenthal has come out with more . Wells is expected to stay in center field with Hunter staying in right. Yeah, because keeping a nine-time Gold Glove winner in right is such a smart idea. Hunter may not be Gold Glove caliber anymore, but he's better than anything Wells can do in center.
Rosenthal also adds that Juan Rivera -- whom the Angels were trying to clear out along with his $5.25 million salary -- could be in the deal as well. Rivera would likely platoon in left and DH if so.
Peter Bourjos appears ticketed for either Triple-A or Toronto.
-- Evan Brunell
UPDATE: Rosenthal tweets the deal is indeed Napoli and Rivera to Toronto for Wells and cash. The question now is just how much cash -- Napoli and Rivera combined will make about half of what Wells is owed in 2011.
UPDATE: Shi Davidi of the Canadian Press tweets the Jays won't be sending money to Anaheim, but that seems highly unlikely.
UPDATE:
The Angels have announced the deal, but the biggest question -- how much money the Angels will receive in return -- is still unanswered.
UPDATE:
Well, Davidi was right -- there is no money changing hands, CBSSports.com senior writer Danny Knobler tells me. The Angels are now on the hook for the entire $86 million left on Wells' contract. Every. Single. Penny.
Unreal.
UPDATE:
And what would this story be without another update -- apparently the Blue Jays are throwing in $5 million. So, instead of owing Wells $86 million, they'll just owe him $81 million, which was nice of them.
-- C. Trent Rosecrans
For more baseball news, rumors and analysis, follow @cbssportsmlb on Twitter or subscribe to the RSS feed.