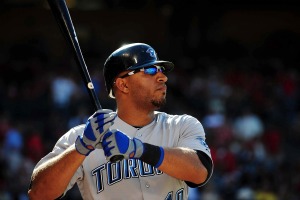 "If you want to continue to perform at the highest level, you have to keep building the business," Angels owner Arte Moreno told the Los Angeles Times back in October. "And that's what I intend to do."
Moreno, who was very upset about the team's play en route to an 80-82 record, went on to pledge that he would spend what was necessary to return the team to the playoffs.
Well, $70 million is certainly a nice chunk of change, but the Angels continued one of the most baffling offseasons ever by handing all that money to Vernon Wells instead of Carl Crawford or Adrian Beltre. Yes, Wells bounced back from years of struggles to bash 31 home runs en route to a .273/.331/.515 line in 646 plate appearances, but Wells was the proud owner of one of the worst contracts in the game that rendered him all but untradeable and has four years left on it as he enters the decline phase of his career.
Except to the Angels, apparently. In a confounding deal pulled off Friday, the Angels acquired Wells in exchange for catcher Mike Napoli and left-fielder Juan Rivera. It's pretty hard to call this an upgrade for the Angels, but is par for the course in a regime that has made more bizarre decisions than any other team since GM Tony Reagins took over. And that might be on the owner.
"We know where our weaknesses are, we know where we are thin, we know where we have to go to market," Moreno said in October. "It's going to cost money, but our fans need to know what we're committed to winning."
Moreno cited an outfielder who can hit, plus boosting offense at catcher and third base as offseason priorities. Except to hear him later tell it to the Times, the club never made an offer on Carl Crawford, and that's baffling for an owner who came into the game willing to spend and did just that by grabbing Vladimir Guerrero, Bartolo Colon and Kelvim Escobar in the 2003-04 offseason.
"There were rumors out there, but we never made an official offer, and no parameters were discussed," Moreno noted of the talks with Crawford.
"It's crazy. I paid [$183 million] for the team [in 2003], and now we're talking $142 million for one player? Seven years on a player is a huge risk financially. [Crawford's] greatest asset is speed, and he's a very skilled athlete who would have fit perfectly in left field for us. But we didn't look at him as a power hitter in our stadium."
Except that the only times Wells has outproduced Crawford in Wins Above Replacement (Fangraphs version) were in 2003 -- Crawford's first season -- and 2006, where Crawford only finished 1.1 behind Wells. Is Crawford's seven years and $142 million that much worse than Wells' four years and $81 million on the deal (the Jays kicked in $5 million)?
Sure, that total outlay is around $70 million once you delete Napoli and Rivera's contracts, but Crawford would have only been an extra three years and $56 million more than Wells. Still a pricey tag? How about Adrian Beltre, then, who signed a five-year, $80 million deal that can increase to six years and $96 million with Texas? Yep, you read that right: the Angels chose a subpar defensive outfielder with just as checkered an offensive history for four years and $81 million over a premier defender who would have cost one less million for an extra year. And meanwhile, the Angels balked at any offer over $77 million for five years. Even if you have to add on that team option for the sixth year, Beltre is still the better buy.
Smooth, Arte.
Oh, and about upgrading offense behind the dish? The Angels traded away their answer there in order to stick with Jeff Mathis, whom is fantastic defensively but hit .195/.219/.278 in 218 PA for the Angels in 2010.
Meanwhile, Napoli had five less home runs than Wells in 136 less trips to the plate in 2010 and Rivera had an eerily similar line to Wells back in 2009 when he hit .287/.332/.478 with 25 homers in 572 PA. And between Rivera and Wells, their OPS' (.771) and OPS+ (105) are exactly the same over the last two years. And yet, the Angels chose to acquire the center fielder.
Except Wells isn't exactly a center fielder. Those three Gold Gloves from 2004-06 are nice, but not worth the metal that was sculpted. Wells has been a lousy center fielder for three years running now and would be better served in a corner. Torii Hunter may have fallen off in his fielding as well, but he's better than Wells. If Peter Bourjos remains in center (or the team signs Scott Podsednik for that role) and Wells shifts to left, that does help the outfield defense but actually would be negligible in boosting Wells' value as he would suddenly be compared to other left fielders, not center fielders. In Fangraphs' adjustments for positional value, center fielders get +2.5 wins credit, but -7.5 for left and right field -- so Wells' bat has to be that much better to make up for it.
Oh, and did we mention how Toronto waived Vernon Wells in August? All the Angels would have had to do was place a claim and he would have been theirs. Instead, they trade for him in the offseason and give up Napoli and Rivera for that right.
Sam Miller of the Orange County Register nailed the trade by saying "It's the rare trade that makes a team older, more expensive and worse."
And that's exactly what the Angels just did.
-- Evan Brunell
For more baseball news, rumors and analysis, follow @cbssportsmlb on Twitter or subscribe to the RSS feed.