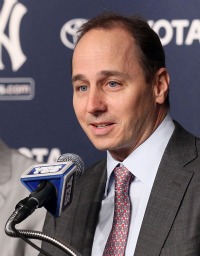 Yankees
general manager Brian Cashman attended a breakfast Tuesday morning sponsored by a New York radio station, and espnW contributor Amanda Rykoff
relayed
some of his comments via Twitter.
* Cashman would be "surprised" if
Derek Jeter
plays shortstop for the four-year duration of his contract, predicting Jeter will move to the outfield. But ... but ... Jeter is the best shortstop in the league!
Gold Glove voters
said so!
* Asked who was the better team right now, the Yankees or
Red Sox
, he answered, "Red Sox. But we have a better bullpen." OK, points for candor there, as that probably won't play well in the Bronx.
* No chance of
Joba Chamberlain
returning to the rotation, because he "hasn't been the same" since the 2008 shoulder injury he suffered in Texas.
*
A.J. Burnett
"knows he has a problem and he's doing all he can to fix it."
* "We're one starter away from being a World Series contender."
UPDATE:
After the Jeter thing predictably caught fire online, Cashman backtracked a bit in a conversation with the
Star-Ledger,
saying it was just a hypothetical and not anything that has been discussed as being imminent.
"We'll deal with that if he loses something and forces us to deal with that. That's not where we're at," he said, adding that the casual exchange at a fan breakfast was a "baseball conversation, not a declaration, not an announcement, nothing of that nature."
-- David Andriesen
For more baseball news, rumors and analysis, follow @cbssportsmlb on Twitter or subscribe to the RSS feed.