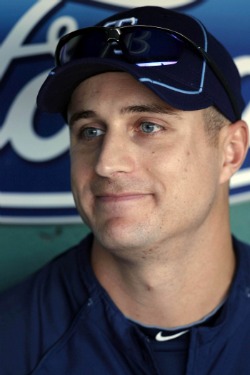 At just 29 years,
Rocco Baldelli
has opted to retire, reports the
St. Petersburg Times
.
"I don't anticipate ever playing baseball again. I'm retired. The paperwork will be filed," Baldelli said, bringing a close to a seven-year career that began with so much promise. "And you know what. The only time I feel like it's good to retire is when you're happy to retire. And I'm happy."
Baldelli burst on the scene in 2003 by finishing third in the Rookie of the Year voting as a 21-year-old. The Rhode Island native hit .289/.326/.416 in 684 plate appearances, cranking 11 home runs. While his first injury would limit him to 565 PA in 2004, he finished with a .280/.326/.436 line with 16 home runs. He was the apple of the then-Devil Rays' eye.
But those two years would be the last he would appear in 100 games. He missed 2005 with injuries that turned into the revelation he had channelopathy, causing fatigue -- not a good thing for an athlete to have.
"I don't regret anything," Baldelli said. "You know what's sad is that I love to play, and I really didn't get a chance to do it as much as I wanted to," Baldelli said.
"But I don't live angrily; I live kind of happy. Why would I look at the negative aspects of everything that I've been through and live the rest of my life talking about those things that aren't the important things to me? The important things to me were all the wonderful things I got to do."
Baldelli looked to be gaining the upper hand in his return to the game in 2006, posting a .302/.339/.533 line in 387 PA with 16 homers, but appeared in just 35 games in 2007 and 28 in 2008. However, he was able to be on the field during the 2008 postseason, hitting two big home runs and contributing a single in the fifth inning in Game 7 of the ALCS against the Red Sox to push the Rays to the World Series.
Baldelli went to the Red Sox for the 2009 season, making 164 plate appearances, but also struggling to stay on the field even as a backup outfielder. He rejoined the Rays and worked in their front office, making a late-season appearance and homering in his first at-bat. Despite just 25 plate appearances under his belt, Baldelli made the postseason roster but was forced to withdraw after the first game due to his body failing him again.
"It's tough, because you almost never put playing and being an athlete behind you," Baldelli said. "But in my mind, I already feel like it's a step behind me."
Baldelli will now join the Rays' front office as a special adviser, working in scouting and player development. He finishes his playing career with a .287/.333/.443 line in 2,065 plate appearances, bashing 60 home runs.
-- Evan Brunell
For more baseball news, rumors and analysis, follow @cbssportsmlb on Twitter or subscribe to the RSS feed.