I just got back from the
Johnny Cueto
news conference in Cincinnati. Even though the Cueto deal was known since last week, it was the other stuff that was a little more interesting.
First of all, the 5 p.m. news conference started at 5:05 p.m. because
Reds
general manager Walt Jocketty was talking to
Edinson Volquez
's agent on the phone. With Cueto signed, Volquez is the last arbitration-eligible player the Reds have.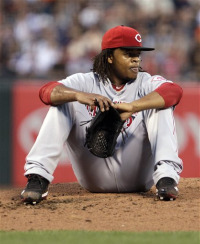 "There's no update. We continue to negotiate and we're talking to them about both a one-year and a multi-year deal and hopefully we get something resolved soon," Jocketty said.
The team hasn't gone to arbitration since 2004 and Jocketty said he's "sure" they won't go to arbitration with Volquez, even if it's a one-year deal.
It would fit in with what the Reds have done this offseason, buying out the arbitration years of not only Cueto, but also
Joey Votto
and
Jay Bruce
, all in their first year of arbitration.
"We felt that it's important to solidify the core of this club for a number of years, know where our cost will be on certain, key players over the next three or four years and build from there," Jocketty said. "We'll build with the young players we have on the 40-man roster now and the number of guys that are coming here in the next couple of years."
He did warn that if the fans don't come out to Great American Ball Park, the team may have to say goodbye to the likes of Votto, Cueto and the team's other young talent.
"At some point when Johnny gets beyond this contract and Votto and some of the other guys, we're not sure if we're going to be able to sign these guys again," Jocketty said. "So we have to have players that will be able to step in and take over. Hopefully we can do that, it just depends on how our revenues and what we're able to generate over the next couple of years and if we continue to win, I think we will. I think our attendance will improve and our revenues will improve and we'll be in great shape to try to re-sign these guys."
Votto signed a three-year deal, taking him up to his free-agent years, while Cueto gave up a free-agent year and the Reds also have a club option for a second. Cueto, 24, will earn $3.4 million this season, $5.4 in 2012, $7.4 million in 2013 and $10 million in 2014. The Reds have a $10 million option for 2015 with an $800,000 buyout.
Bruce signed the longest deal, going through 2016 with a club option for 2017.
Volquez has asked for $2 million and the Reds have offered $1.3 million.
-- C. Trent Rosecrans
For more baseball news, rumors and analysis, follow @cbssportsmlb on Twitter or subscribe to the RSS feed.