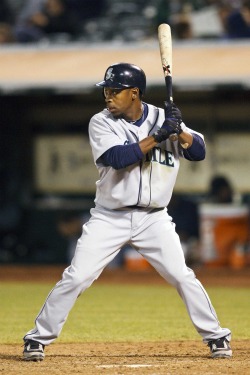 All's quiet in baseball these days with arbitration the only story and a countdown to the beginning of spring training less than a month away.
However, if the A's get their way, there will be at least one more trade that gets the attention of the baseball world.
The San Jose Mercury News reveals that Oakland is trying to acquire third baseman Chone Figgins from the Mariners. With three years and $26 million left on his deal, the Mariners might be motivated to deal the 32-year-old for players that fit within their retooling phase. It is thought that Kevin Kouzmanoff and a pitcher would be headed to Seattle for Figgins if a trade is consummated.
Figgins had a poor debut in Seattle after years with the Angels, hitting just .259/.340/.306 although he did swipe 42 bases amid an attempt to shift to second base. With that experiment over, Figgins is slated to return to third, and the Mariners hope he can approximate his 2009 line of .298/.395/.393.
Oakland has been seeking a third baseman all winter. They chased Adrian Beltre for the second straight season and also flirted with Edwin Encarnacion, claiming him on waivers only to non-tender him. Clearly, they aren't sold on Kouz, who has a great glove but produced a .247/.283/.396 mark in his first season with Oakland, hitting 16 homers.
If the A's did acquire Figgins, he would become the perfect leadoff hitter for a club that would suddenly legitimately challenge the Rangers for superiority in the West. So far, Oakland has imported Josh Willingham, David DeJesus and Hideki Matsui to bolster the offense. However, all three are free agents next year and while the club remains at the Coliseum with no certain organizational future, it will be difficult to attract free agents to come -- or even for internal free agents to stay. GM Billy Beane has had to go the trade route in recent years to get his bats, so acquiring Figgins would add certainty to the offense over the next few years -- the club's already got plenty on its hands in filling holes after the year.
One such hole could be filled by Chris Carter, who is adamant the left-field job is his to lose -- even after Oakland acquired two left fielders in DeJesus and Willingham.
"I'm still thinking it's my job to lose, basically," Carter said. "It's a business. They want to win and make the team better. [Adding players] keeps it more competitive."
That's all well and good, but after Carter began his major league career with an 0-for-19 streak, his stock dipped in many people's eyes. He rebounded upon his September recall, but by then it was too late: he was ticketed for Triple-A again in 2010. The 24-year-old likely remains Oakland's left fielder or DH of the future, especially with the positions opening up after the year, but he'll have to serve as depth in 2011 for the A's. Even backup outfield is not an option as Ryan Sweeney and Conor Jackson have those spots locked down as well.
UPDATE: ESPN's Buster Olney says there could be a third team involved in the deal, with the Jays a possibility. If the Jays were able to snag Kouzmanoff, that would enable Jose Bautista to stay in right field.
-- Evan Brunell
For more baseball news, rumors and analysis, follow @cbssportsmlb on Twitter or subscribe to the RSS feed.