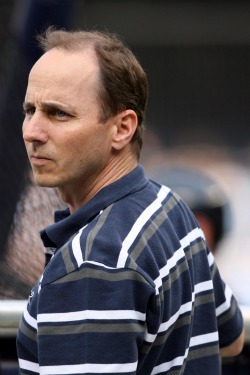 When one hears the name "Steinbrenner" these days, you either think about the Yankees owner that passed away after restoring the Yankees' brand to America's consciousness, or you think of his son, Hank.
But what you don't think of is Hal, who runs the Yankees along with Hank and prefers to stay in the background. However, with Brian Cashman (pictured) making headlines for his belief New York should not have signed Rafael Soriano, saying Derek Jeter could become a center fielder and moonlighting as a bartender, Hal felt compelled to step in to clear the air.
"[Cashman] and I have a great working relationship," Steinbrenner told the New York Post, saying he does not believe Cash is trying to get fired or create a rift in the organization. "There is no problem, right now. I think we have had a bunch of drummed-up drama."
The drama has largely focused around Cashman's words about Soriano, indicating he was displeased by the organization's choice to sign the reliever and surrender a first-round pick. Given Cashman did not make the final call there, some have wondered as to his autonomy.
"I value his opinion and his advice," Steinbrenner said. "That does not mean I am always going to go with that advice and all of my VPs know that I might go a different way. There are no hard feelings between Cash and I. There never was. Reasonable men can differ in opinions.
"I keep reading about dissension and discord. We are a well-functioning company. The bosses have a decision to make. Sometimes people don't agree with those decisions. So I told him, 'You are always honest with the media, be honest now. Tell them what you have to tell them.' I was already onto the next decision. I told him, 'You and I are fine. Answer in any way you want.' We are not always going to be on the same page. It is my job to think what is best for the family, partners and company."
The drama includes Cashman's future with the Yankees, with many openly speculating that New York was not pleased by Cashman's "recruiting" of Cliff Lee, the rough negotiations with Derek Jeter and how Cashman has tired of the organization. But in recent interviews, Cashman has debunked all speculation, and Hal went a step further, saying the goal is to keep Cashman as GM beyond 2011, when his contract expires.
And Hal made clear that not all of the offseason blame game should be heaped on Cashman. When Jeter's agent came out with statements that called New York's negotiation techniques "baffling," the Yankees (via Cashman) responded that Jeter was welcome to shop the offer. That came straight from Hal, apparently.
"I will return fire when fired upon," he said. "I do have some of the old man [George Steinbrenner] in me."
But despite all the hubbub, perhaps the most offended Yankees fans got was when Cashman admitted the Red Sox were stronger on paper. He had to defend himself from angry Yankee fans (never mind that the Red Sox actually are stronger on paper, at least for now) and point out that championships are won on the field and in the summer, not on paper in the winter. And Hal Steinbrenner has no problem with Cash's statements to that regard.
"My understanding was he was asked in an objective way about the different areas of the team and said our hitting was on par with the Red Sox, our bullpen is better and their starting pitching, right now, is a little stronger," Steinbrenner said.
"Really, there are no problems at all," Steinbrenner added. "Brian calls me on my cell phone more often than I would even like. He and I talk on a daily basis multiple times. There is not much that he does without consulting me first. This has been a very good relationship."
UPDATE: Brian Cashman spoke to FOX Sports about the issue Friday. This wide-ranging comment from Cashman says it all:
The bottom line is, I'm charged with putting together a championship-caliber club. As far as I'm concerned, we've got something pretty good here. We won the World Series in 2009. We missed by two games in 2010. [Outside publications] rank our farm system as one of the best in baseball.

Tell me where we are screwing up on the baseball operations side. I need a starting pitcher, but is the future strong because we have a farm system acknowledged in the industry to be one of the best? Check. Am I getting our payroll down, as charged by ownership? Check. Do we have success on the field? Check.

What's the problem? Why are people bitching so much? That's my question. That's my frustration. The problem is people having patience with the process.
-- Evan Brunell
For more baseball news, rumors and analysis, follow @cbssportsmlb on Twitter or subscribe to the RSS feed.