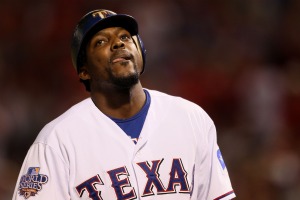 OK, I'm calling shenanigans on
Vladimir Guerrero
. I know, I know, calling shenanigans is not something to be taken lightly. But the unemployed designated hitter's story is not adding up.
The
Orioles
appear to be the only viable option for Guerrero's services at this point, and have
reportedly
made him an offer of somewhere just north of $3 million (plus incentives), which he reportedly thought was insulting. Today Buster Olney of ESPN
reported
via Twitter that Guerrero's camp is telling the Orioles the slugger has an offer on the table for $8 million. This raises several questions.
1) From whom? Who is left with a hole or an obvious upgrade need at DH who has that kind of money available? Maybe the
Blue Jays
are looking to spend some of their
Vernon Wells
money? The
Angels
want to have someone to share duties with
Bobby Abreu
? Other than that, AL teams are pretty much set and/or broke.
2) If this is true, why is Fern Cuza, Guerrero's agent, even going back to talk to the Orioles? Baltimore is clearly never going to be able to match that (Olney hears the O's can't go higher than $4.5 million, and that's including incentives). And it's not like Baltimore offers more of a chance to win this year than someone else. If he has an $8 million offer, why isn't he racing to sign it?
3) How dumb does Cuza think the Orioles are? Seriously, does he think Andy MacPhail is some rube who just fell off the GM truck? This just seems like disingenuous negotiating, which is not going to set a good tone.
The bottom line is, Guerrero and Cuza screwed up, overplaying their hand in an offseason in which there were more DH candidates than jobs. Now this game of musical chairs is winding down, the music has stopped and Guerrero is left alone with an ugly chair.
But that's no reason to start pulling shenanigans.
(click video to play)
-- David Andriesen
For more baseball news, rumors and analysis, follow @cbssportsmlb on Twitter or subscribe to the RSS feed.