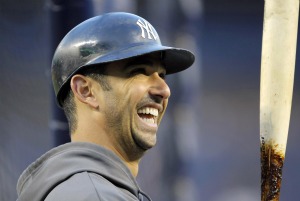 Jorge Posada isn't exactly pleased about the transfer to DH, but is spouting all the right lines.
"It is what it is," he tells the New York Daily News. "If that's going to help out the team and that's what they want, I'm OK with it."
Posada will enter his first season without "catcher" on his resume, although he will function as the emergency catcher and is hoping a situation arises where he can get out behind the plate. He continues to train as catcher and will stay prepared all year long.
"I'll DH and then they're going to want me to catch one of those days. I'm keeping an open mind. I would love to catch. I'm training like I always do, and if I have to catch, I'll catch."
Posada is finishing up a four-year, $52 million contract and is hoping the transition to DH will cause him to play like he did in 2007 (.338/.426/.543), not 2010, when he had the worst batting average since 1999 by checking in at .248. He did bash 18 home runs with 23 doubles, so kept his power output, but the 39-year-old's time is clearly done behind the plate as he has struggled his entire career to be a capable defender.
But that doesn't mean Posada's career is done after the year.
"I would like to keep my doors open, I would like if I feel good and feel like I can do it and having fun, I would like to keep going," Posada said. "I love playing the game. I just hope that everything stays healthy."
Does this mean that Posada could appear in a major league uniform that doesn't have pinstripes on it?
It's possible. The Yankees have stud catching prospect Jesus Montero, who can flat out rake -- but can't defend. The Yankees are hoping he can hang out behind the dish for a year or two, but that's optimistic. However, slotting him at DH for 2012 would give the Yankees a bona fide bat for the next decade who can mash with the best of them.
That, however, would push Posada out of New York.
It might be difficult to imagine Posada in another uniform, just like Derek Jeter and Mariano Rivera, but unless the Yankees trade Montero, that looks to be what might be shaping up.
And Montero could very well be traded -- the Yankees don't exactly need to hang onto a young DH when they can just buy one of the better bats in the game to function as DH. Trading Montero could get the Yankees the starting pitcher they desperately need to challenge for the World Series, which would enable Posada to stay in town.
It's unlikely New York would pull off such a trade before Opening Day, but that could be to their benefit. The first half could be used to judge Posada's long-term prognosis at DH as well as evaluate which pitcher is off to a good start that could be swapped for Montero. One problem is that the free agent market for starting pitchers after the year is incredibly thin, so the Yankees would have to seek a pitcher under more than one year of control. That would get tricky in pulling off a trade, as the additional years of control drastically improve a pitcher's value in trade.
-- Evan Brunell
For more baseball news, rumors and analysis, follow @cbssportsmlb on Twitter or subscribe to the RSS feed.