The Vikings first felt the pain of snow overload when their roof collapsed and forced them to play two home games at other venues.
Now, the Cubs are feeling the pain as part of its roof has blown off in the blizzard that has attacked the Midwest as CBS Chicago reports. The debris is part of a structural panel above the press box, as ChicagoWeatherCenter.com relays.
The streets around the field have been closed to protect vehicles and passengers (the ones willing to brave the elements, anyways). Police confirmed they were informed that pieces of the roof were blowing off, as someone tweeted a photo of the damage, which you can see in the image.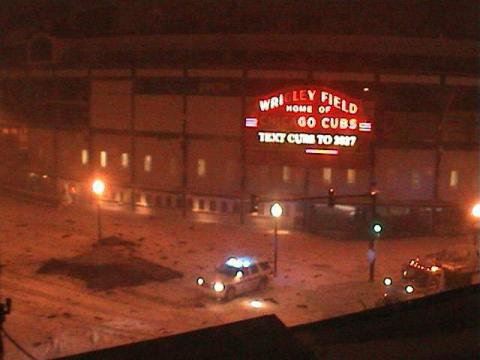 Chicago is shutting the city down, with two major highways being closed and a major street -- Lake Shore Drive -- also being shutdown, with drivers reporting gridlock that has trapped them in their car for over three hours. White Sox manager Ozzie Guillen just chimed in on the destruction, tweeting that "Lake short [sic] drive is a parking lot my god". Guillen had earlier expressed excitement for the blizzard, saying it would be the first one he ever experienced. Now? "I touht this was fun now I know sorry to al u people I feel very bad now sorry". Yeah, sounds about right. Nothing shuts down a city like a snowstorm.
Police are attempting to clean up the debris. Anyone else think they should just give up and wait out the blizzard? Not like the roads will be navigable anyways...
-- Evan Brunell
For more baseball news, rumors and analysis, follow @cbssportsmlb on Twitter or subscribe to the RSS feed.