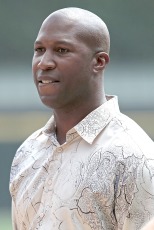 For hire: Former World Series MVP with 325 career homers. Missed last season, but prior to that hadn't played fewer than 137 games, had fewer than 500 at-bats or hit fewer than 23 homers in any of the previous six years, amassing a line of .276/.342/.515 during that time.
And yet Jermaine Dye can't find a job, at least not one with a major-league contract. So he tells Ken Rosenthal of FOXSports.com he might just retire.
"I would still like to play, but I think my choices have passed and teams have gone with other people," Dye said Wednesday. "I will continue to stay in shape and hopefully someone will call. If nothing gets done by the end of the spring, I may call it a career."
Dye basically misjudged the market and ended up without a job last winter (Paging Mr. Guerrero to the white courtesy phone), opting to sit out the season after earning $11.5 million with the
White Sox
in 2009. Now that he's trying to come back at age 37, he's not finding any suitors, even though he hit 27 homers in '09. He had some contact with the
Dodgers
this winter, but they were apparently unwilling to offer anything but a minor-league deal. It's not clear what kind of money he's looking for.
"I feel I can contribute to a team in a big way," Dye said. "I guess I'm just shocked that nobody has called. Regardless if a team thinks I have slowed defensively, I think my offensive numbers make a case for themselves."
-- David Andriesen
For more baseball news, rumors and analysis, follow @cbssportsmlb on Twitter or subscribe to the RSS feed.