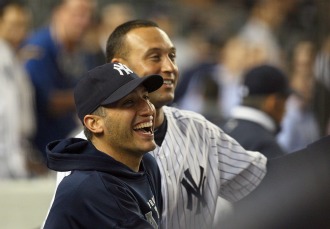 The
Yankees
have released quotes from Yankees past and present regarding the impending retirement of
Andy Pettitte
, and while most of them read like Pettitte died instead of retiring, they're very nice. Strangely, Roger Clemens seems to have been unavailable to comment. Here's a sampling.
Derek Jeter:
"It's been a pleasure to play with Andy for all these years, and the Yankees have been fortunate to have him representing the organization both on and off the field. More importantly it's been an honor to get to know him as a person, and I consider him family. I wish for nothing but happiness for him and his family, as I know how important they are to him."
Jorge Posada:
"I'm really sad that Andy is going to retire. He was so much more than a teammate to me -- he was one of my closest friends. I admire everything that he has accomplished as a Yankee, but Andy was someone who always put the team first. I'm going to miss him deeply."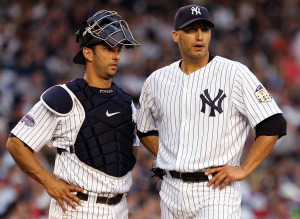 Tino Martinez:
"Since I've been retired, I'm always asked, 'Who would you have pitch a World Series Game 7?' And I always say, 'Andy Pettitte.' When people ask why, I tell them it was because he was so prepared for every start. When the time comes for a big game, you want a guy who's going to give you seven strong innings. And that's what he did time and time again. Andy was one of my favorite teammates in my entire career."
Joe Torre:
"What's really unusual about him is that a lot of times pitchers are more consumed with themselves. Andy was probably the consummate team player, especially for a pitcher. He was so concerned not only about the day he pitched but he always had his arm around a young guy in between starts. He's been a huge favorite of mine because he's such a stand up guy, and he hasn't changed from day one. He's a great teammate, and I think that's why he won so many games. The guys that play behind him understand how intense he is, and it becomes contagious."
Ron Guidry:
"To me, the way he carried himself was head and shoulders above the great majority of other players. You knew he was going to represent the team with a certain type of class. If he made a mistake, he owned up to it. That's the mark of a true pro. Athletes admire other athletes who have that quality"
-- David Andriesen
For more baseball news, rumors and analysis, follow @cbssportsmlb on Twitter or subscribe to the RSS feed.