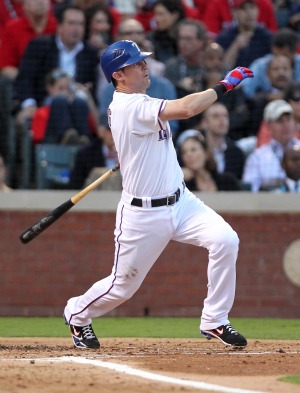 In trade rumors that won't die,
Michael Young
's name has been rather prominent.
But a conclusion to the saga could be coming soon, with FOX Sports' Ken Rosenthal reporting that Young could be traded as soon as Monday to the Colorado Rockies, which would make him its second baseman.
Word surfaced Friday that Texas was still discussing Young with multiple teams, but it's narrowed back down to the Rockies, Rosenthal reports and talks are at an advanced stage, which means that the players are likely largely settled on. It's unknown who could be going back to Texas, but Eric Young, Jr. and Jose Lopez have been part of discussions. Texas earlier rejected Young, Jr. due to concerns about a stress fracture while Lopez isn't exactly a top second baseman as the Rangers know all too well from his Mariner days which came to a close last season.
To pull off such a deal for Michael Young, due $48 million over the last three years of his contract, Texas would either need to eat a high amount or Colorado will have to part with another high-salaried player. Rosenthal wonders about Aaron Cook, who could slide into Texas' rotation. Colorado would be able to move Cook given they acquired Felipe Paulino from Houston earlier in the offseason.
Any deal that is consummated will have to have the hurdles of how much money the Rangers are sending, along with the quantity and quality of players. The more money Texas sends, the more right they have to demand a top player. And the Rangers are looking for such a player, as Young is a fan favorite and leader. It's not easy to replace these things, especially if your return is only Jose Lopez.
Of course, Texas could just back out and keep Young as their DH and reserve infielder. Texas' comments to this effect the last few days have served as "mixed messages," so Colorado isn't entirely clear on whether or not they have a real shot at the third baseman.
For Young's part, while he's said all the right things publicly including not wanting to be traded, he has communicated privately he is unhappy about what his role will be in 2011. And now's the time to trade Young while teams are still looking to bolster holes.
Young has a limited no-trade clause, but Colorado is not on it. He will gain full rights this summer as a 10-and-5 player, however, so if the Rangers ever want to be able to trade him and not have to seek his approval, now's the time.
-- Evan Brunell
For more baseball news, rumors and analysis, follow @cbssportsmlb on Twitter or subscribe to the RSS feed.