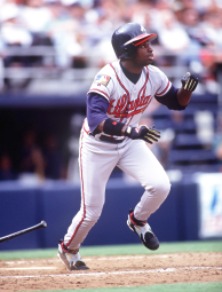 Congratulations to Deion Sanders for his
election
to the Pro Football Hall of Fame. But it's worth remembering that the guy was a pretty decent major-league baseball player as well. What we'll never know is how good a player he might have been if his loyalties hadn't been divided.
Sanders had tremendous speed -- he stole bases at a rate of 47 per 162 games and covered a lot of ground in center field -- while the knock on him was his failure to master hitting. His .263 career batting average is pretty decent, but his .319 on-base percentage speaks to his lack of plate discipline.
But how could anyone master hitting without being completely committed to it? There might be no skill in sports that is so dependent on repeatability and fine-tuning. If you look at Sanders' career
numbers,
you see that he performed best in the seasons he played most.
Sanders played 97 games for the
Braves
in 1992, putting off reporting to the Falcons (and paying back his salary in the form of fines) until they were three games into the season. He had a slash line of .304/.346/.495, all career highs, as the Braves advanced to the World Series. He played for the Falcons on October 11 then flew to Pittsburgh for a Braves playoff game that night, but Bobby Cox, not impressed with the circus, didn't play him.
After that season, Sanders' attention shifted steadily more toward football. He missed the entire 1996 baseball season, returned to play a career-high 115 games with the
Reds
in 1997 (batting .273) and was out of baseball until 2001, when he was released after 32 games with a .173 average.
If he'd stuck to baseball, could Sanders have been one of the game's all-time great leadoff hitters? No way to know. But considering he's about to have a bust in Canton, he probably doesn't have any regrets.
-- David Andriesen
For more baseball news, rumors and analysis, follow @cbssportsmlb on Twitter or subscribe to the RSS feed.