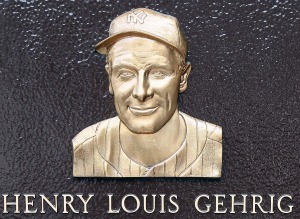 In August, the New York Times published an article contending that it's possible the disease named after Lou Gehrig was not responsible for his demise.
It has long been thought that Gehrig suffered from amyotrophic lateral sclerosis, otherwise known as ALS. However, the Times contends that it is possible Gehrig's multiple concussions gave way to a similar disease to ALS.
Unfortunately, this has all been mere speculation due to the Mayo Clinic's refusal to release Gehrig's records. That's where Minnesota State Representative Phyllis Kahn comes in, as the Minnesota Post writes. Kahn introduced a bill Monday that would allow the clinic to release the Yankee great's records. Currently, they are refusing to release the records and forbid a doctor who examined the records to be interviewed. It is unknown why the Mayo Clinic refused access, but it is possible they based it on a lack of patient consent.
However, this bill would allow a release of medical records provided 50 years have passed. This bill would come on top of the federal government's recent decree of consent-exemption rules, which read in part:
[A]rchivists, biographers and historians have expressed frustration regarding the lack of access to ancient or old records … even when there are likely few remaining individuals concerned with the privacy of such information. …

We believe fifty years is an appropriate time span because by approximately covering the span of two generations we believe it will both protect the privacy interests of most, if not all, living relatives … and it reflects the difficulty of obtaining authorizations from personal representatives as time passes.
For the records to remain sealed if the bill passes, a direct descendant of Gehrig would have to object (he did not have any children) or if a "heath directive prevents it." However, the Mayo Clinic would still be able to refuse to release the records.
Kahn admits part of the motivation is her curiosity on what really happened to a legend like Gehrig, but also insists this is part of a larger public-policy initiative and believes that any discussion of concussions is a good thing.
"I'm a scientist; I like accuracy, and this is about disclosure with proper protection," she said. "The mystery makes this interesting, but if the records come out and don't show anything, so be it."
The privacy hounds out there are having a field day with this issue, but it's hard to imagine why. In this Facebook era, privacy is of paramount importance, but we're talking about a public figure dead for over 50 years. As the wording of the consent-exception rules read, "there are likely few remaining individuals concerned with the privacy of such information."
Isn't it important to get our historical records as accurate as possible? There is little to no value to keep this type of information private.
-- Evan Brunell
For more baseball news, rumors and analysis, follow @cbssportsmlb on Twitter or subscribe to the RSS feed.