Last season, the Padres went with Jerry Hairston, Jr. the bulk of the time out of the leadoff spot.
But Hairston has since moved on, having joined the Nationals. In his absence, San Diego is looking at Will Venable (pictured) as a possibility, reports the North County Times.
Venable is currently set to man an outfield corner -- likely right field -- in his first full season in the majors. The 28-year-old has a career .252/.325/.418 line, which isn't exactly a line that should be attached to a player leading off the game.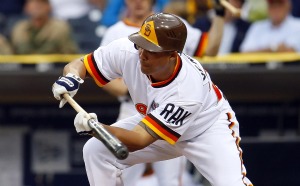 However, San Diego's options are limited. Of those that finished with a .325 or higher OBP last season for San Diego, two (Adrian Gonzalez and Yorvit Torrealba) are gone while Chase Headley's .327 OBP doesn't exactly vault him ahead of Venable.
However, some newcomers do have a chance to supplant Venable up top the order. Cameron Maybin will still be considered along with fellow newcomers Jason Bartlett and Orlando Hudson, as manager Bud Black mentioned, according to MLB.com.
Maybin would be better served to bat in the lower half of the order until San Diego knows what it will get from the former top prospect, and Hudson's OBP was .338 last season. Better then Venable, but once you add in the 29 stolen bases versus Hudson's 10, Venable probably holds the edge there. The only newcomer with a real shot is Jason Bartlett. His OBP was just .324 last season, but holds a career .345 mark and swiped 30 bags back in 2009.
Granted, a lot of Bartlett's career mark is tied up in his career year of 2009, when he had a .389 OBP. But even without that season, Bartlett's right in the thick of it with Venable for the rights to the leadoff spot.
In the end, however, this isn't quite as important as one may think. The leadoff hitter leads off exactly once per game and there have been studies showing that the best-arranged lineup is only marginally different than what normally gets trotted out. And sometimes, the best-arranged lineup looks quite odd.
Take the Padres, for example. After plugging in their projected lineup through the Lineup Analysis tool using career averages, it's learned that the best leadoff hitter candidate for the Padres is Hudson, with Venable fifth and Bartlett ninth. Yeah, don't see that happening. But even the difference between the best and 30th best lineup is 0.09 runs per game different.
Oh, and the Padres used 135 different lineups last season with no settled leadoff hitter or No. 3/4 hitter... and yet the Pads came within a game of making the playoffs.
-- Evan Brunell
For more baseball news, rumors and analysis, follow @cbssportsmlb on Twitter or subscribe to the RSS feed.