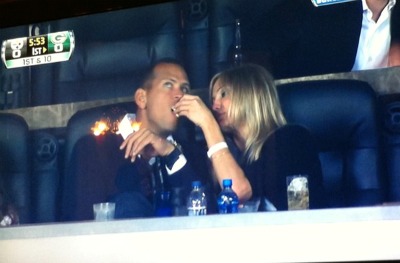 Only A-Rod could have made this worse.
After being caught on national TV at the Super Bay being fed popcorn by actress Cameron Diaz, Rodriguez went ballistic, a source told the Chicago Sun-Times. A-Rod demanded he not be shown again on television for the duration of the game.
"He really went ballistic — thinking the cameraman was out to get them in a paparazzi-like shot. … That's so crazy," the source said. "Anyone who knows anything about producing a live sports event --especially something as huge as the Super Bowl -- would know that those celebrity shots are purely random. A-Rod, of all people, should know that."
As a result of the decree, the game prominently showed former President George Bush and his wife whenever going for the celebrity shots.
It's hard to blame Rodriguez for being upset about how he was viewed on national TV. After all, he already has struggled with outside- and self-perception issues and he likely knew he would be mocked -- as he was -- for what millions of people saw on TV.
But in the end, Rodriguez really had no grounds to complain. He is a public figure dating another public figure at perhaps the biggest American spectacle of the year sitting in the front row of a luxury suite. And being fed food by Cameron Diaz has certainly crossed more than one male's mind in the past.
You can't blame A-Rod for being upset at what was shown. But it should have been left there. His demands to stay off the TV just compounds the issue.
-- Evan Brunell
For more baseball news, rumors and analysis, follow @cbssportsmlb on Twitter or subscribe to the RSS feed.