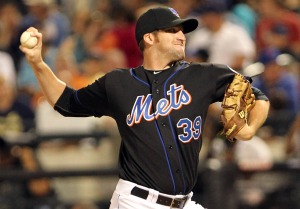 Bobby Parnell is ready.
After hearing that manager Terry Collins expects Parnell to serve as setup man, the 26-year-old was quick to agree.
"I'm here to do that," Parnell told ESPN New York. "I'm here to be in the eighth inning and hand that ball to K-Rod. I'm excited for it. And to actually hear it come from Terry is a definite blessing, and I'm ready for it."
Parnell spent all of 2009 with the Mets, but posted a poor 5.30 ERA in 88 1/3 innings. He was demoted to Triple-A to start 2010, but was called up in late June to finish with a 2.83 ERA in 35 innings. His demotion did wonders for Parnell -- even if he disagreed with it -- as he cut his walks from 4.7 BB/9 in 2009 to 2.1. His strikeout rate also rose from 7.5 K/9 to 8.5.
"I didn't want to be there, obviously," Parnell said of his demotion. "But it was also a learning experience to go back down there. So I felt like it was a little bit of pressure taken off to go down there and learn a couple of pitches and to work on my stuff. I took it and did what I had to do with it. I didn't want to be there. I felt like I could have performed well in the major leagues."
Parnell did say his changeup and splitfingered fastball made strides in Triple-A as he was able to work on these pitches. He also located his fastball better (which his improved walk rates indicate), and the Mets certainly noticed by promoting him.
However, the club did err in Parnell's usage after Francisco Rodriguez was suspended for the rest of the season after getting into an altercation with his then-girlfriend's father. Rather than throw Parnell into the closer's role, the old regime turned to Hisanori Takahashi. The Japanese import was able to save eight games in an excellent season as a swingman, which drove up his price. He later left to the Angels, leaving the Mets without a fantastic left-handed pitcher and lingering questions about Parnell's ability to pitch late in games.
"It would have been a good experience," Parnell said. "I think it would have definitely helped going into this year. But looking back is 20/20. It wasn't my decision then, and it worked out how it did. I just have to go in this year and do what I can."
K-Rod is a free agent after the season, so if Parnell comes through with a strong 2011, the Mets could very well make him their closer of the future.
-- Evan Brunell
For more baseball news, rumors and analysis, follow @cbssportsmlb on Twitter or subscribe to the RSS feed.