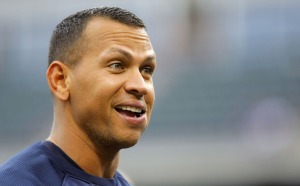 Barry Zito? Vernon Wells? Mike Hampton? Alfonso Soriano?
There are plenty of candidates for the worst free-agent contract ever signed in the game, but Orioles GM Andy MacPhail didn't hesitate to add another name to the list when he tabbed Alex Rodriguez' Texas Rangers contract as one of the worst in the game, reports the Baltimore Sun.
"Alex Rodriguez to Texas was the worst signing in the history of baseball in my view," MacPhail said. "Why? Because he played as well as you can possibly ask the kid to play. He had great years. And the needle didn't move at all. ... The team didn't improve. Attendance didn't go up. But hey, they got the lead story on ESPN. Well, if that's what motivates you, you're going down the wrong path. You want to put 35,000 people in the ballpark, win the games. That's what [fans] are there to see. That's what the Orioles need -- to win some games."
Ignore A-Rod's surprise at this revelation in the picture. Interestingly enough, MacPhail didn't cite A-Rod's second massive contract that will actually pay him more than the original one. His Texas deal was for 10 years and $250 million, but his Yankees' deal is 10 years and $275 million, with attainable incentives that should push him over the $300 million barrier before all is said and done.
Maybe because it's the Yankees, which have massive dollars at its disposal and can point to winning a World Series with A-Rod. All Rangers owner Tom Hicks can point to is a last-place MVP award for Rodriguez, a trade of Rodriguez that led to nothing but a utility infielder (Alfonso Soriano and Joaquin Arias to the Yankees, then a subsequent trade of Soriano for Armando Galarraga, Terrmel Sledge and Brad Wilkerson) and bankruptcy that forced him out as Rangers owner last season.
There's no excuse for Hicks bidding against himself, but let's not overlook the Yankees handing that deal to a 32-year-old. New York has already showed signs of regretting the deal and it's hard to blame the team -- A-Rod's .847 OPS in 2010 is his second-worst mark overall and worst since 1997, his second season in the major leagues. While many feel that Rodriguez has more in the tank (and are likely right), he's also never going to be the same hitter that was worthy of the megabucks deals in the first place.
MacPhail went on to say that he feels in order to compete in the AL East, it's crucial to develop your own pitchers and supplement with bats brought in via free agency. Baltimore did just that this offseason, importing Derrek Lee and Vladimir Guerrero along with trading for J.J. Hardy and Mark Reynolds.
"We have to spend our money where we're on equal footing," MacPhail said. "And we have to be efficient with it. Our fans have heard me drone on about growing the arms and buying the bats. Why do we say that? Is it a tactical thing? No, in my view, it's a practical thing. We're not going to be buying No. 1 pitchers. Because by the time they reach free agency, they're expensive and they're fragile. It's just a bad place for us to spend our money."
The Orioles appear in good shape here, as Brian Matusz has already emerged as one of the best young left-handed starters in the game and Zach Britton will join him soon enough atop the rotation. Baltimore also has a number of long-term, internal candidates to fill out a rotation, starting with Jake Arrieta and Chris Tillman.
Unfortunately for MacPhail, while his Orioles could probably contend for a postseason spot in any other division, they reside in the AL East and as such will have a difficult enough time trying to snag fourth place, never mind first.
-- Evan Brunell
For more baseball news, rumors and analysis, follow @cbssportsmlb on Twitter or subscribe to the RSS feed.