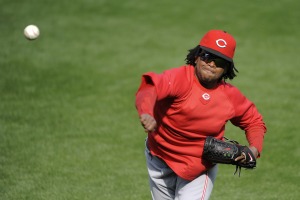 Before the Reds settled with Edinson Volquez on a one-year deal for $1.62 million that buys out the righty's first year of arbitration, a long-term deal was discussed by both sides.
As Volquez reveals, the Reds offered a four-year deal "the same as Johnny Cueto," but Volquez declined to sign it.
"I didn't feel it was right for me. I spoke with the lawyer and the general manager, and we all agreed on a single season," Volquez told El Caribe, a Spanish newspaper, with MLB Trade Rumors providing the translation.
It's unclear if the Cueto comparison was strictly years or if the dollar value would have been similar. Cueto has signed a four-year deal for $27 million that buys out his first year of arbitration. However, while Cueto doesn't quite have the ceiling of Volquez, he's also made 92 starts in his first three seasons, posting a 4.27 ERA. Turning 25 next Tuesday, Cueto is a good bet to keep up his value over the next four years.
Volquez is a different story. He's made just 53 starts over the same span of time as Cueto, missing most of 2009 after undergoing Tommy John surgery. He managed 12 starts in 2010 while rehabbing from the injury along with being suspended for performance-enhancing drug. His 3.62 ERA over these 53 starts is an appreciable difference from Cueto, a difference that xFIP supports.
However, that difference in quality is likely worth the $27 million Cueto received, even if there's questions around his endurance. Of course, if Cueto breaks out, that makes him vastly underpaid, but at this point Cueto is being paid like a durable No. 3/4 starter while the same deal would pay Volquez as a brittle No. 2/3 starter.
Of course, there's an age difference here: Volquez is 27, three years older than Cueto. But all it takes is one full, good season for Volquez for the price to spike up. And he knows that.
"Having a good year this season is my mission," Volquez adds. "Depending on my performance, we'll seek a contract of at least four years with the team. I can't define the amount we're going to seek following the next year, but it's going to be for that quantity of years."
At that point, Volquez would have two of his free-agent years bought out, so the price tag would be higher than $27 million regardless. And if things should change in spring training or in season?
"The parties remain open in case I want to sign during Spring Training or in the middle of the seasons, whenever I want."
-- Evan Brunell
For more baseball news, rumors and analysis, follow @cbssportsmlb on Twitter or subscribe to the RSS feed.