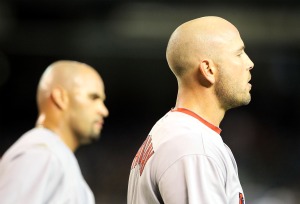 You know how at work, sometimes everyone is asked to kick a little money into the kitty for a good cause, like a maternity present for Mary Anne from accounting?
Matt Holliday
has sort of the same idea, but on a bigger scale. He said Friday he's willing to defer part of his salary if it would help the
Cardinals
re-sign
Albert Pujols
.
The massive deal the Cardinals gave Holliday last January -- seven years, $120 million -- was met with resentment by many Cardinals fans who feared it would keep the team from being able to keep Pujols, whose contract expires this season. Holliday's $17 million salary represents nearly one-sixth of St. Louis' estimated 2011 payroll of $104 million.
The outfielder
told a radio show
Friday he'd be willing to defer money if aproached by the club about doing so -- which he stressed has not happened.
"I deferred $2 million a year for the whole contract," Holliday said, "and I would be willing, if they came to me and said, 'Hey, this is what it's going to take to get Albert done, would you do it again or do more?' Scott [Boras, Holliday's agent,] probably wouldn't like me to stay that, but if that's what it took, I would be willing to do that."
A couple of million a year deferred during Holliday's five remaining years probably wouldn't make or break the Cardinals' chances of signing Pujols, especially if the deferral didn't extend beyond a point where the team would be still paying Pujols anyway, but it's a nice gesture. Like everyone else, Holliday knows the Cardinals have a much better chance of winning with Pujols in the lineup. And hey, bald guys have to stick together.
-- David Andriesen
For more baseball news, rumors and analysis, follow @cbssportsmlb on Twitter or subscribe to the RSS feed.