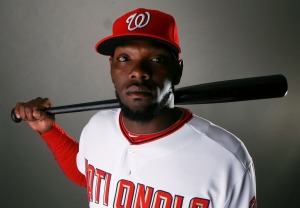 Elijah Dukes is only 26, but he has packed a lot into those years. He was a hot-shot baseball prospect, washed out after 240 big-league games, has six children by four different women, ran through most of his money and now is reinventing himself as a rapper called Fly Eli.
The
Tampa Tribune
is coming out with a profile on Dukes, who was a third-round pick of the (then-Devil)
Rays
in 2002 and released by the
Nationals
in March, in tomorrow's editions. But the paper has a teaser up for the story
on its website,
and it sounds like a humdinger.
He says he was blackballed by baseball after he came forward last year with allegations that fellow ballplayers were smuggling drugs onto chartered aircraft, using drugs in hotel rooms after flights and how he would sometimes smoke marijuana before home games when he played for the Washington Nationals.
So if you've ever wondered to yourself, "Say, what ever happened to that Elijah Dukes kid?" well, that's what happened.
-- David Andriesen
For more baseball news, rumors and analysis, follow @cbssportsmlb on Twitter or subscribe to the RSS feed.