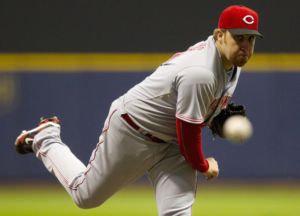 Up until May 25, 2008, Aaron Harang was one of the better pitchers in the league.
As the workhorse ace of the Reds, Harang had been acquired in 2003 and served as a beacon of hope as the Reds attempted to climb the ladder of respectability. Through Harang's May 22 start in 2008 against the Padres, his career numbers showed 1,068 innings over 170 starts with a 4.10 ERA. This includes his early time with Oakland. But for the three seasons preceding 2008, Harang had a 3.77 ERA in 101 starts with 677 2/3 innings, giving him a reputation as a strong innings-eater.
But right after turning 30 in 2008, Harang appeared in an extra-innings game on May 25, pitching innings 13-16 against the Padres. This came three days after his most recent start and he would be asked to start again four days later. In the start prior to the relief appearance, Harang had pitched 5 1/3 innings, coughing up five runs in what was one of his worst starts of the season. However, he only saw his ERA increase to 3.50 off the 103-pitch outing.
He didn't give up any runs in the relief outing over 63 pitches and was brilliant, striking out nine in the process, but coughed up six runs in four innings against the Pirates in his next start, tossing 73 pitches. That's 239 pitches over an eight-day span, by the way.
It would only get worse from there. In the 18 starts Harang made after the relief outing, his ERA was a sky-high 5.88 and he was never the same, spending a month on the disabled list for a forearm strain. He made just 26 starts in 2009 and 20 in 2010, combining for a 4.66 ERA over these 46 starts with 274 innings pitched. To compare, Harang made 35 starts in 2006, pitching 234 1/3 innings. That's a difference of 11 starts and just 39 2/3 innings.
And now, Harang finally admits that relief outing is what derailed his career. Now a Padre, Harang is attempting to recapture the magic of days old, but Dusty Baker's bizarre pitching decisions may have claimed another victim.
"What it did," Harang said of the relief appearance to the San Diego Union-Tribune, "is fatigue me beyond the point of recovery. I started to change my arm angle to compensate for the fatigue and that's when my forearm started to bother me.
"I feel like I've never been able to get back to the consistent, repetitive mechanics that I had," he continued. "The last couple of years have been, 'Try this, try that. Move your arm angle out a little.' I've had a couple of my old coaches call me, asking, 'What are you doing? You had so much success before doing the same thing. Now, all of a sudden, you're turning your back on that?'
"I got away from my main thing, which is throwing my fastball and throwing everything off that. I got to thinking I'm going to trick people and it just didn't work."
At just 32, Harang has time to turn it around. He's certainly picked a great park to do it in Petco, but unfortunately, Harang likely will never become the pitcher of old.
Meanwhile, Dusty Baker still has a job after wrecking yet another pitching career. Madness.
-- Evan Brunell
For more baseball news, rumors and analysis, follow @cbssportsmlb on Twitter or subscribe to the RSS feed.