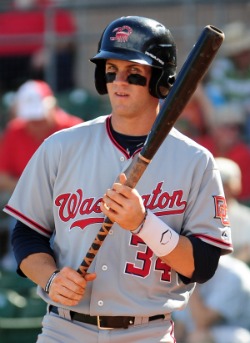 When the Nationals drafted Bryce Harper, they immediately moved him out from behind the plate and stuck him in right field.
It's possible Harper could have stayed behind the plate, but the length of time for him to reach the majors along with the extra developmental time to learn how to approach being a catcher defensively was deemed too much.
Except now the Nationals are blocked at right field after the signing of Jayson Werth to a seven-year deal. That doesn't jive with Harper's timetable, with Washington expecting him to take just two years to rocket through the farm as an 18-year-old. As a result, it's likely the Nationals will shift him to another position, which could end up being center field. That works just fine for Harper, according to MLB.com.
"I'm not sure where I will play," Harper said. "I think I play center field better than I do anywhere else. I have enough speed and enough reaction to know where the ball goes off the bat. Being around [Nationals minor league instructor] Tony Tarasco and my dad, who played center field, has been a big help for me. Whether it's left, center or right, I will play anywhere the Nationals need me."
As Harper readies for his first full professional season, he knows exactly what he needs to work on after dipping his toe in the waters while part of the taxi squad for his team in the Arizona Fall League.
"I want to go out there, try to get better, learn from all the big league guys, see how they approach the game and how they go about their business," Harper notes. "I want to get better in the outfield. ... That is my main goal. I want to see what opposing pitchers will do and how they will throw to hitters like Ryan Zimmerman and Jayson Werth.
"There are a lot of things that I write down -- baserunning. ... The outfield is the main thing I have to get better at right now -- the outfield and the mental part of the game."
Of course, the most important part is for Harper to actually produce at the plate. But if work ethic is any indication, the Nats have nothing to worry about.
"He attacks the baseball, which is great for a hitter," Washington hitting coach Rick Eckstein said. "He was lining the ball around the park and then driving balls [over the fence in the AFL]. It was very impressive how he conducted his batting practices. He is very advanced at the plate. Mentally, he has a great feel for what he wants to do and a great work ethic for accomplishing it."
So Harper has a great work ethic that should rocket him up the farm and he appears to be playing center field. So when will he be patrolling the outfield grass at Nationals Park? Washington believes that Harper can reach the majors within two years, but Harper hopes for a September callup.
Whether September or two years from now, it will have been an impressive rise for Harper if he can make The Show that fast.
-- Evan Brunell
For more baseball news, rumors and analysis, follow @cbssportsmlb on Twitter or subscribe to the RSS feed.