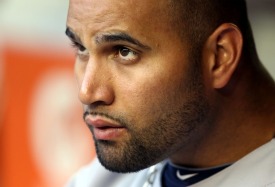 The
Cardinals
' pitchers and catchers report today, but the big day in St. Louis (or, well, Jupiter, Fla.) will be Wednesday --
Albert Pujols
' deadline for a new contract.
Of course, what the exact zero hour for Pujols' end to contract talks isn't exactly clear, general manager John Mozeliak
told MLB.com's Matthew Leach
.
"Honest I don't know at the moment," Mozeliak said. "I'll know when I need to know."
Beyond that, Mozeliak said he won't talk about Pujols' contract talks until at least Tuesday, but will likely talk on Wednesday.
According to Joe Strauss of the St. Louis Post-Dispatch
, the team doesn't what to give more than seven years to Pujols, Strauss also notes the Cardinals had not "tendered an offer as of early next week," but are expected to give an offer closer to the deadline.
Even if Pujols does become a free agent after this season, the Cardinals would be considered the front-runner to retain his services. At least one American League general manager agrees,
telling Nick Cafardo of the Boston Globe
, "What will happen is, they'll get it done. The Cardinals aren't a small-market team, so they're in that area where they probably have to do it because not doing it would create chaos and possible loss of revenue."
Of course, then there's what
the New York Post 's Joel Sherman
calls the Cardinals' "nightmare scenario" -- Pujols signing with the
Cubs
. An American League executive tells Sherman that Pujols "would be to the Cubs what [Barry] Bonds was to the
Giants
, but with a nicer face and nine games a year at Busch Stadium."
-- C. Trent Rosecrans
For more baseball news, rumors and analysis, follow @cbssportsmlb on Twitter or subscribe to the RSS feed.