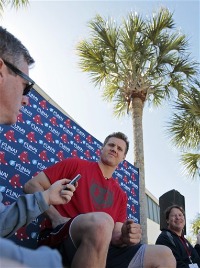 Coming off his worst year in the big leagues, there's naturally some questions about
Red Sox
closer
Jonathan Papelbon
coming into spring training.
The fact that he's a free agent after the season and that the team also signed former
White Sox
closer
Bobby Jenks
, well, that just adds to the number of questions about the back of the Boston bullpen.
With Red Sox pitchers and catchers reporting on Sunday, it was time to ask some of those questions.
When asked about the assumption that he's leaving, Papelbon said, "Why does everybody think that?" (via
Pete Abraham of the Boston Globe on Twitter
.)
"There may be various reasons why he wants to bounce back. I'm not sure I care, whether it's financial … I just want him to get a bunch of saves," manager Terry Franonca told reporters,
including the Boston Globe
. "He looks like he's in great shape."
As for Jenks, Francona said he immediately called Papelbon when the deal was done. "I don't think it was much of an issue," Francona said.
Jenks said the same thing when he spoke to a group of reporters,
including the Globe
.
"I didn't come here to step on anybody's toes. I know what my role is," Jenks said. "Coming here, we have been friends, shoot, for many years now. I don't think that's going to be any problem throughout the year at all."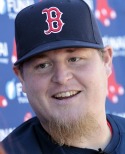 It doesn't hurt the plausibility of that statement when Jenks is coming off his own disappointing season in Chicago. Jenks had a career-high 4.44 ERA and a career-low 99 ERA+. While his strikeout rate was up, so was his walk rate. He also lost the confidence of his manager, but refused to speak about that or Oney Guillen's twitter rants against him.
That said, Jenks does have 173 career saves, including two in the World Series. If Papelbon does struggle, the calls for Jenks will likely increase.
"If those questions do come up, it's going to come down to the decision of the manager and whatever they think is best for the team," Jenks said.
Jenks said he did have opportunities to close, but chose the Red Sox because it's a place he wanted to play.
-- C. Trent Rosecrans
For more baseball news, rumors and analysis, follow @cbssportsmlb on Twitter or subscribe to the RSS feed.