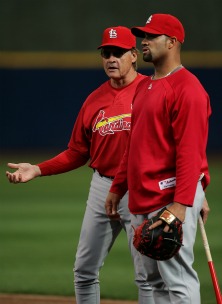 Say what you want about Tony La Russa, but the man doesn't lack for opinions. And he wasn't shy about one Tuesday, railing on what he perceives as pressure
Albert Pujols
is getting from the players' union to push for the biggest possible contract regardless of what he'd prefer personally.
"I know what he's going through with the union, and to some extent, his representatives,'' La Russa told reporters. "His representatives are getting beat up by the union. 'Set the bar. Set the bar.'
"That's bull[expletive]. Purely and truly. You've got to deal with it, but that's not the way it should be.
"It should be, 'Look at all the factors.' Values, loyalty, maybe there's a better opportunity someplace else. Maybe there's a better opportunity than here. All that stuff. But it shouldn't be the most money, the most money, the most money.
"I just know those forces are in place. I don't ask them about it. It's not my place to ask. I don't know much he's going to listen to it or is listening to it. But those are powerful forces."
Does the union apply direct pressure to players to reject any offer but the biggest? It's not really clear, but the concern is common among club executives and some fans. The union's interest is keeping salary levels up for its members. But does Pujols getting $260 million or $290 million really affect the bottom line of the average union member? And isn't what's best for the health of baseball and its individual teams ultimately best for the players?
UPDATE:
Union chief Michael Weiner, contacted by ESPN.com,
denied
that anyone from the union had been involved in the Pujols situation.
"The truth is we've had no conversations with Albert or Danny (Lozano, Pujols' agent) or anybody on Albert's behalf about the numbers in this negotiation. None. It's never been the union's policy to pressure players and certainly it's never been the union's policy to pressure players because they have to set the bar for other players."
-- David Andriesen
For more baseball news, rumors and analysis, follow @cbssportsmlb on Twitter or subscribe to the RSS feed.