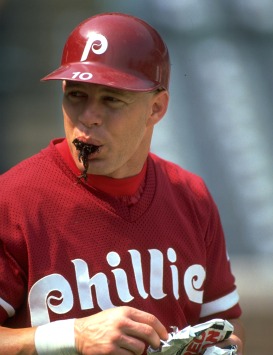 The pressure on baseball to outlaw tobacco has increased, with two Senate Democrats writing commissioner Bud Selig with a request to outlaw tobacco as
Politico.com
reports.
"We now know conclusively that smokeless tobacco endangers the health of baseball players who use it, but it also affects millions of young people who watch baseball," the letter to Selig and the MLB players' union reads. "The use of smokeless tobacco by baseball players undermines the positive image of the sport and sends a dangerous message to young fans, who may be influenced by the players they look up to as role models."
Senate majority whip Dick Durbin (Illinois) and Senator Frank Lautenberg (New Jersey) cited minor league baseball banning tobacco 30 years ago as all the more reason why baseball needs to ban the products at the major league level.
One problem with this is that changes at the minor league level do not need to be collectively bargained, while at the major league level, virtually all machinations -- even if technically not required -- tend to be bargained.
However, tobacco is well known to be linked to many different types of cancer, and smokeless tobacco causes cancers in the mouth and jaw. Hall of Famer Tony Gwynn recently quit dipping once he was diagnosed with cancer. In the letter, the senators revealed that tobacco-related products kill 443,000 Americans a year with 1,000 children per day becoming addicted.
In a separate letter, the senators hailed the efforts of Nationals phenom Stephen Strasburg, who publicly quit his addiction to chewing tobacco.
"Your individual decision to quit smokeless tobacco, not only for your health, but to set a positive image for the young people who look up to you and watch baseball, is laudable," they wrote. "We want to encourage you to stick with it. Baseball fans will notice. Your example could prevent disease and disability and save a few lives."
-- Evan Brunell
For more baseball news, rumors and analysis, follow @cbssportsmlb on Twitter or subscribe to the RSS feed.
Photo: Lenny Dykstra