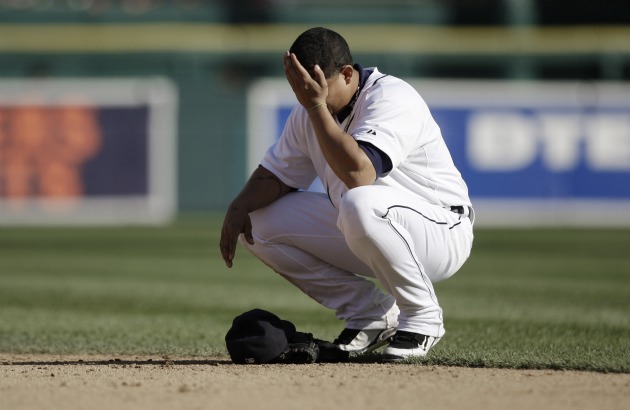 Some things are more important than baseball.
Miguel Cabrera
's life is one of those things.
For the second time in his career, Cabrera's alcohol abuse has become a public issue. The first was at the end of a season, this time it's at the beginning.
Cabrera underwent counseling after the 2009 season and his incident with his wife at their home. He rebounded with the greatest season of his young career in 2010, but then came Wednesday's arrest for DUI in Florida.
Now is the time for the
Tigers
to worry about Cabrera, not the 2011 season. Cabrera needs professional help right now, and if he needs to miss all of spring training or even part of the regular season, so be it.
The team is apparently doing due diligence in Cabrera's fate, which is not only the right thing to do for the person, it's also the best thing to do as a business. Cabrera is 27 and has the prime years of his career ahead of him. He's also signed through 2015 (at $20 million or more per season from now throughout he end of the contract), so his problem is the Tigers' problem.
It's a sad tale, and hopefully has a happy ending. That ending doesn't necessarily have to do with baseball, but Cabrera's well-being and the rest of his life.
WORST SHAPE OF HIS LIFE?:
Even thought he cliches about "best shape of his life" spring training stories have become cliche, but no need to wear that meme out with
Pirates
third baseman
Pedro Alvarez
.
Alvarez "clearly looks bulkier," the
Pittsburgh Tribune-Review 's Rob Biertempfel writes
. Clint Hurdle says he's just "big-boned."
MEET THE BENCH:
Cubs
manager Mike Quade said he'll consider pulling left fielder
Alfonso Soriano
late in games. (
Chicago Tribune
)
SAFETY FIRST:
Carlos Santana
will play some first base this spring, hoping to keep his bat in the lineup and give his legs a break from catching.
Santana said he played third and the outfield in the
Dodgers
system and expects the move to be relatively easy.
The
Indians
did the same thing with
Victor Martinez
before they traded him to Bosoton. (
Cleveland Plain Dealer
)
ROSTER MOVE:
In one of the more striking roster moves of the season, the
Orioles
have placed
Alfredo Simon
on the restricted list to make room on their roster for
Vladimir Guerrero
, whose signing became official today.
Simon is in jail in the Dominican Republic as the prime suspect in a fatal shooting. (
Baltimore Sun
)
ARBITRATION DATE:
Astros
outfielder
Hunter Pence
is headed to an arbitration hearing today in Phoenix.
Pence will make either $6.9 million if he wins his case, $5.15 million if he loses it. I wouldn't mind losing like that.
OPENING A'S:
Oakland manager Bob Geren won't make a decision about his opening-day starter until later in spring training. It's likely between
Trevor Cahill
,
Dallas Braden
and
Brett Anderson
. (
San Francisco Chronicle
)
LEAGUE LEADERS:
The
Mariners
may not lead the league in much, but their bullpen could lead the league in tattoos.
Geoff Baker of the Seattle Times talks to relievers
Brandon League
and
Justin Miller
about their tattoos.
Baker also has
a story about the ol' days
when players had to have off-season jobs.
MUST READ:
Sean Kirst of the
Syracuse Post-Standard writes about Jacob Francis
the first African-American umpire. Francis umpired an exhibition game between the Syracuse Stars and the Proivdence Grays in 1885. He may have also been a neighbor of Moses Fleetwood Walker.
TODAY IN HISTORY:
Feb. 18, 1944, the
Reds
signed 15-year old Joe Nuxhall to a major-league contract. Nuxhall was in uniform on opening day, but didn't appear in a game until June 10, 1944. Eight years later, he'd start his big-league career in earnest, pitching until 1966.
TODAY'S TIMEWASTER:
Seamheads.com has this
amazing ballpark database.
Go there only if you don't have plans for the next hour.
BROWSER SWITCH?:
I tried out Google's Chrome browser, but didn't have much luck with it, so I stuck with Firefox. However, the newest feature may get me to switch --
a personal blacklist can remove sites from Google search results
.
BAD NEWS:
Giordano's filed for bankruptcy
.
GOOD NEWS:
Radiohead's releasing the digital version of its new album
a day early
, so if, like me, you've already ordered it, you should get it today.
VAN LENNON:
A
Jump-Imagine mashup
for your enjoyment.
-- C. Trent Rosecrans
For more baseball news, rumors and analysis, follow @cbssportsmlb on Twitter or subscribe to the RSS feed.