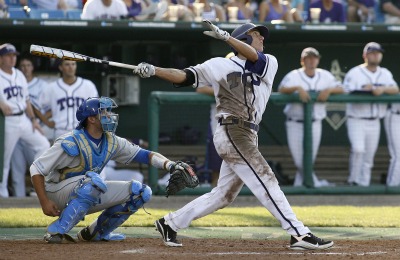 Ah, the sweet sounds of baseball... the ball smacking in the glove, the ping off the bat...
Yep, college baseball is gearing up for its season amid the trademark ping of its aluminum bats.
However, the bats players will use this season are drastically different from previous bats, ones that scorched line drives, struck mortal fear in infielders and launched moon shots. A new rule has been instituted which could change college baseball forever -- but figures to improve scouting on a MLB level.
The NCAA has decreed all new bats must meet the .50 figure submitted by the Bat-Ball Coefficient of Restitution (BBCOR), using bats made of aluminum alloy, solid wood, solid wood laminate, solid bamboo laminate, hollow fiber composite and multiple-material composites.
That's a mouthful, so let's make it simple: NCAA has deadened the aluminum bats, so the days of an off-balance flailing of a pitch down and away turning into a home run are gone. Indeed, as mentioned in a recent Baseball America article, Texas coach Augie Garrido noted home-run numbers in batting practices have dropped from 15 to 20 all the way down to five or six. Similarly, LSU coch Paul Mainieri says home runs dropped from 36 in 2008 to only six in fall intrasquad games.
"The new bats don't have the same pop, that same trampoline feel, and my first hits didn't go as far, maybe like 30 feet less," UCLA sophomore Beau Amaral told the Orange County Register. It's tough on everybody. Our coach even made a rule that we can't complain about the bats anymore."
Despite the precipitous home-run drop, professional scouts have indicated the new setup is far more accurate at predicting success on a big league level. The impact of this can't be understated, as players that may have otherwise flown under the radar, not been drafted and went home could morph into baseball stars while those whose games were all about aluminum will see their luster fall. For all the money poured into the draft and scouting, this could represent major cost-savings while boosting the quality of pro ball.
"The new bats are doing what they are supposed to do, which is act like wood," UC Irvine coach Mike Gillespie confirmed. "They take like five percent of the flight off the ball from last year. ... I still see hard hit line drives. I see doubles. I just think that the flyball that used to loft over the fence isn't doing it now."
This is all a positive, but there's one negative, which comes at the college baseball level. Players and coaches alike believe college teams will start promoting small-ball tendencies such as bunting, steals and baserunning. That could in turn affect recruiting with coaches going after fast, contact hitters instead of sluggers.
The new rule also has a chance of influencing professional baseball as the pool of available college hitters drops in power potential. After all, you can't draft a potential 40-home run hitter if the player can't get a scholarship in favor of someone who can swipe 40 bases. Given power often develops late, however, this may end up a non-factor. In addition, only the stars at the college level tend to get noticed and drafted, so this will likely only affect those in which college is their last stop in playing baseball. The stars should remain in the game, just with lesser offensive numbers -- but, again, their statistics will be more translatable to pro ball.
-- Evan Brunell
For more baseball news, rumors and analysis, follow @cbssportsmlb on Twitter or subscribe to the RSS feed.
PHOTO: TCU Horned Frogs infielder Taylor Featherston (12) hits a home run against the UCLA Bruins in the ninth inning during game 11 of the 2010 College World Series championships at Rosenblatt Stadium. TCU defeated UCLA 6-2.