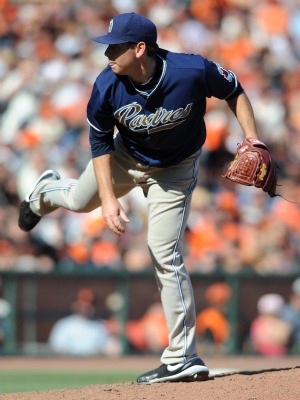 Back in 2003,
Tim Stauffer
was nabbed with the fourth overall pick by the
Padres
after an impressive college career and Cape Cod stint as chronicled by the book
The Last Best League: One Summer, One Season, One Dream
. (This writer highly recommends the book to anyone looking to get a better look at what the best amateur showcase league in Cape Cod is all about.)
There were problems with Stauffer's arm that showed after being drafted, but he negotiated a lower bonus to join the Padres. However, despite debuting in 2005 and making 14 starts, he was largely an afterthought and only made three starts combined the next two seasons with poor results.
He then missed 2008 with a partial labrum tear in the right shoulder and appeared to be a complete bust, but worked his way back admirably by making 14 starts in 2009 of a 3.58 ERA. That was enough to secure him a job out of spring training last season as a long reliever.
"It was nice from the get-go in Spring Training to feel completely healthy, and to be able to go out there with everything feeling comfortable and to just concentrate on pitching," Stauffer told MLB.com.
And concentrate he did. Stauffer had a ridiculous season out of the bullpen, performing at an elite level. He grabbed a spot start in May, but didn't get another crack at a full-time rotation spot until September, a move GM Jed Hoyer says he regrets
Stauffer proved his worth in the rotation so well that he's the No. 4 to enter the season. Overall, he finished with seven starts and 32 games after missing time in May due to an emergency appendectomy. He had a 1.85 ERA in 82 2/3 innings, whiffing 61 and walking 24.
"When I saw him pitch last year, Tim looked a lot like he did when he was at Richmond," current Diamondbacks and ex-Padres GM Kevin Towers said. "In college, he was a four-pitch pitcher, and he's that guy again. I was really happy to see the success he was having."
Stauffer agreed, saying the last time he felt this healthy and good was college. "I was getting really good life on my fastball, and I was getting good extension. I had a lot of success with my sinker and getting balls hit in play. But the biggest reason for my success was I was throwing strikes."
And now, Stauffer gets a chance for a full season in the rotation at age 29. It took him a ways to get this far for a overall No. 4 pick, but he's finally here.
-- Evan Brunell
For more baseball news, rumors and analysis, follow @cbssportsmlb on Twitter or subscribe to the RSS feed.