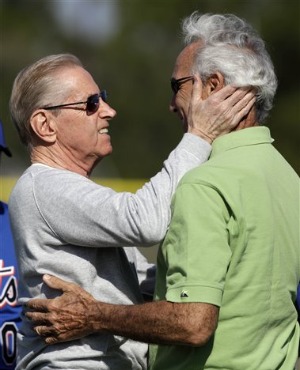 The Bernie Madoff saga just won't die, as more information continues to come out on how owner Fred Wilpon, son and COO Jeff Wilpon and president Saul Katz conducted business with the disgraced Ponzi king.
In a New York Times piece, it is revealed that those who invested through the Wilpons with Madoff were not allowed to speak to Madoff whatsoever. Everything was handled through the Wilpons' family company of Sterling Equities, as requested by Madoff. In fact, money would not be sent to Madoff directly; rather, it would be paid to Sterling, who would then pay Madoff through Sterling partner and Mets board member Arthur Friedman, who is a public accountant with a law degree.
Overall, Friedman oversaw 178 Madoff accounts opened for friends business acquaintances and Sterling employees while also having a hand in 305 other accounts set up by Sterling partners for personal use. Friedman would be in regular contact with Madoff's firm weekly, even daily, dealing with Frank DiPascali who has pleaded guilty to assisting with Madoff's fraud.
The Wilpons may have believed they were doing these friends and employees a favor, as someone with Madoff accounts through Sterling told the Times .
"You could not get [a Madoff account] any other way," he said. "Sterling was the pathway in."
Another Sterling employee, David Diamond, confirmed that the Wilpons were extremely high on Madoff and was considered to be a "miracle worker."
"The employees at Sterling, based on their net worth and their income, would never have had access to Bernie on their own," Diamond said. "It was made clear to the employees that because of Sterling's relationship with Madoff, they were giving us a special consideration."
Those considerations ended up burning the investors.
"We never questioned the fact we weren't allowed to contact Madoff because of our confidence in Sterling," a woman with Madoff accounts said. "We invested because we trusted these two people absolutely; because they were big business and we assumed they knew what they were talking about."
The Wilpons didn't do wholesale recruiting, however. You had to build up a good relationship with the Wilpons and have the opportunity offered to you. The lawsuit filed by the trustee attempting to reclaim monies lost from investors alleges that "far more outsiders were turned down than actually got into the elite pool of Madoff investors through Sterling."
Despite warnings from many accountants, however, clients jumped at the chance to invest with Madoff -- a problem that plagued nearly everyone associated with Madoff from banks to financial institutions. As long as Madoff was performing, it was OK.
Larry King, the longtime CNN host, was another victim of the Madoff scheme with ties to the Wilpons along with Sandy Koufax, the Dodgers great pictured in the photo (left) with Fred Wilpon. King attended high school with Fred and said he believes the Wilpons were simply offering them a chance to invest with someone who had proven high returns.
"I still love Freddie," King said. "If you look up 'mensch' in the dictionary, you will see Freddie's picture."
-- Evan Brunell
For more baseball news, rumors and analysis, follow @cbssportsmlb on Twitter or subscribe to the RSS feed.