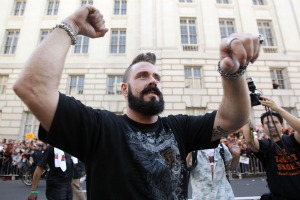 So why was Giants' closer Brian Wilson at Charlie Sheen's house? To advise on Major League III, apparently.
"Quite frankly, when Rick Vaughn calls the bullpen, I'm going to answer -- on a professional level, of course," Wilson told Henry Schulman of the San Francisco Chronicle.
Although TMZ.com called the get-together a "party," Wilson said it was more of a meeting to gain insight for another Major League movie -- apparently Major League: Back to the Minors didn't count as a true sequel, so they're making Major League III -- that or they're just trying, like the rest of us, to pretend it never happened. Anyway, Wilson said he was invited to talk about his workouts, pitching and other "baseball-related topics."
As far as any worries the Giants may have about Wilson cavorting with Sheen, Wilson said it's a non-issue.
"Basically [the meeting] was talking about how [Sheen] can portray this in the movie," Wilson said. "As far as talking about guilty by association, c'mon. I'm linked to the Sea Captain. I'm linked to the Machine. That doesn't bother me. People are going to make their assumptions. That's fine. You guys know me, know who I am. I shouldn't have to do a character sketch of myself."
The first Major League was released in 1989, meaning Sheen would be in his 23rd big-league season. Omar Vizquel also debuted in 1989, so it's not entirely out of the question. Other notables to have debuted in 1989 were Ken Griffey Jr., David Justice, Deion Sanders and Sammy Sosa.
-- C. Trent Rosecrans
For more baseball news, rumors and analysis, follow @cbssportsmlb on Twitter or subscribe to the RSS feed.