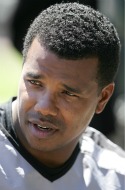 If Albert Pujols does end up in Chicago, it will be on the Northside, not the Southside, as White Sox general manager Kenny Williams tells CSNChicago.com's Chuck Garfien his team is unwilling to spend the type of money on one player Pujols will demand.
The word is Pujols is looking for $30 million a year -- too rich for Kenny's blood.
"If [White Sox owner Jerry Reinsdorf] gave me $30 million right now, I'm not going to spend it on one guy. Sorry White Sox fans," Williams said. "But I tell you what, I'm going to take that $30 million and I'm going to distribute it around. My team is going to be better as a whole than it is with one player who might get hurt. Then you're done. Sorry, that's just me. And that's no disrespect to a future Hall of Famer, first ballot, one of the greatest players in history."
Of course, the White Sox added nearly $25 million to their payroll this offseason, with escalations in existing contracts plus adding Adam Dunn to a four-year, $56-million deal, reliever Jesse Crain (three years, $13 million) and re-signing Paul Konerko and A.J. Pierzynski.
Williams also talks about labor and the upcoming CBA, saying he wouldn't mind a work stoppage for the "health of the game," -- pretty much taking the opposite stance of Hank Steinbrenner.
-- C. Trent Rosecrans
For more baseball news, rumors and analysis, follow @cbssportsmlb on Twitter or subscribe to the RSS feed.