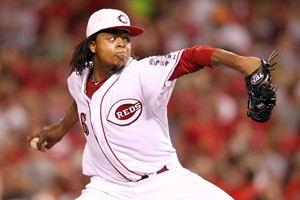 In what appeared to be at least a three-man race to get the baseball on March 31 for the Cincinnati
Reds
, former All Star
Edinson Volquez
will get the nod over
Bronson Arroyo
,
Johnny Cueto
et al.
Dusty Baker
made the announcement Tuesday
, a day after telling Volquez of the decision.
The 27-year-old right-hander is certainly talented enough to be the ace of the defending NL Central champions. In his only full season as a starter -- 2008 -- Volquez went 17-6 with a 3.21 ERA. He struck out 206 hitters in 196 innings. He was so good,
he even drew votes for NL Rookie of the Year
, despite not being eligible to receive the award (details, details ... ).
In the past two years, Volquez has started 21 games, going 8-5 with a 4.33 ERA and 1.42 WHIP. His start in last season's NLDS was a bit disastrous, but he was still regaining strength in his return from Tommy John surgery, which he had in August of 2009.
Volquez says he's already 100 percent and will certainly ready to go on opening day.
Baker seems to have arrived at the decision by simply eliminating the other starters in a relatively stacked rotation.
"We're very confident in Volquez. Plus, you name who you think can handle it the best," Baker said. "Is Homer ready for the No. 1? Is Wood ready for No. 1? Is Leake ready for No. 1? Cueto just signed a four-year contract, and what's he, 23 years old? He's already got enough pressure on him. I'm trying to relieve any pressure from him thinking he has to prove he's worth the money.

"There's nobody looser and I think can handle the situation better than Volquez. Not much bothers him. At least he doesn't show it bothers him."
As for Bronson Arroyo, who went 17-10 with a 3.88 ERA, 1.15 WHIP and logged over 200 innings for the sixth straight season last year?
"I think Bronson has always leaned towards not being it," Baker said. "He's more of a long-run type of guy. What's Bronson's ERA, [3.88]? If you're facing No. 1s, that equals a lot of losses. He's fine with it. I talked to him about it. He was thinking about it this winter, he feels it's the best spot in the rotation for him, too."
-- Matt Snyder
For more baseball news, rumors and analysis, follow @cbssportsmlb on Twitter or subscribe to the RSS feed.